Fellows Auctioneers is selling two unique pieces of Arts & Crafts jewellery from Birmingham designers Edith Linnell and Bernard Instone.
Bernard Instone:
A silver amethyst and demantoid garnet ring is from Instone, born in Kings Norton, Birmingham.
The ring has an estimate of £200 – £300 and is Lot 49 in the Jewellery sale, which is live now and closes on Thursday 24th June.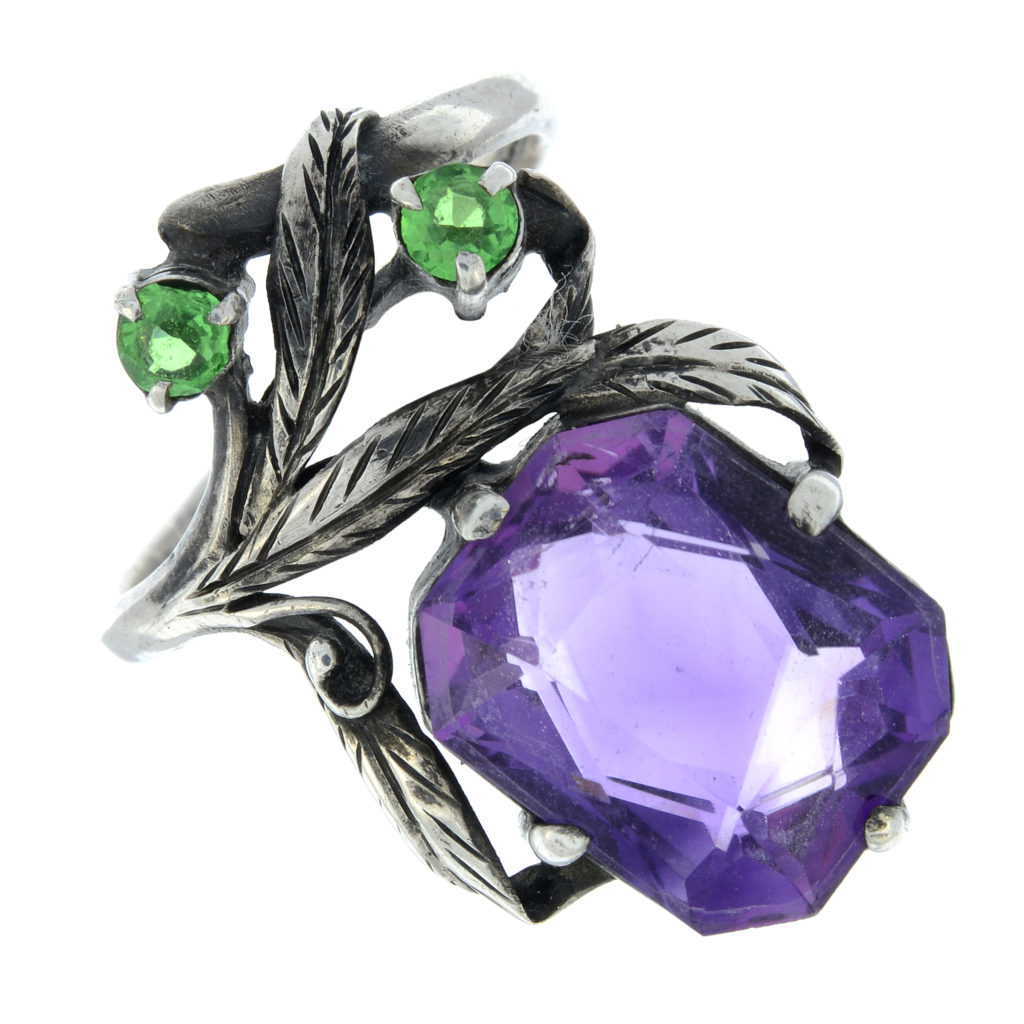 Instone studied jewellery and practical silversmithing at the Birmingham School of Jewellery in Vittoria Street from 1904 until 1912. He created many unique Arts & Crafts pieces in the early 20th century, and his pieces are known for their high quality and originality.
Edith Linnell:
Lot 51 in the same auction is a silver tourmaline brooch, attributed to Edith Linnell.
Linnell was from Moseley, Birmingham, and her pieces perfectly represent the Arts & Crafts movement in the early 20th century.
Linnell originally intended to be a portrait artist, but found her calling in jewellery. Her jewellery work was so well received that it became exhibited at the Victoria & Albert Museum and sold in the Burlington Arcade.
The Arts & crafts designer had an established premises on Sloane Street. The business had an unfortunate end when it was bombed during the blitz in the Second World War.
Linnell also had showcases in Harrods and on RMS Queen Mary.
The brooch attributed to Linnell which is up for auction at Fellows has an estimate of £200 – £300 in the sale.
Both items are included amongst 750 pieces of jewellery. These range from rings, brooches, earrings and more in different shapes and sizes from a variety of brands.
The auction can be viewed in person on selected dates in both London and Birmingham.
The auction house is also offering free shipping on items sold in the sale. Virtual viewings can be booked for free to ensure that customers can get a keen eye on the sale from the comfort of their own homes.
Lindsay Beardmore, Specialist & Catalogue Manager from the Jewellery Department at Fellows, said: "Edith Linnell and Bernard Instone's jewellery is unique and distinctive and they perfectly represent the Arts & Crafts movement of the early 20th century. With our main office located in Birmingham's Jewellery Quarter, It is always extra special to sell items from local Birmingham jewellers."