Bette Davis
Born Ruth Elizabeth Davis on April 5th 1908, Bette was a highly awarded actress. Her career spanned over 50 years. As well as being an accomplished actor, she has also become a cultural reference. Artists have immortalised her in songs, books, and movies.
A talented actress, Davis started her professional acting career at 21. She acted on Broadway and in films, earning a name for herself. During the Second World War, Davis sold war bonds and entertained the troops. She also helped set up the famous Hollywood Canteen, personally making sure that there were plenty of famous volunteers in attendance. Later, Davis went on to star in films and TV well into her seventies, racking up 100 acting credits. She received two Academy Awards and was the first person to accrue ten nominations.
Bette Davis and Johnny Gleeson
Johnny Gleeson owned a white Rolls Royce, in which he would chauffeur the rich and famous of the 1960s and 1970s. When Bette Davis visited the UK, Gleeson was often her chauffeur. During their time together, they developed a friendship.
Such was Davis' delight with the Rolls Royce that she gave it a nickname. The story goes that when she saw it for the first time she called it "[her] own QE3". This was likely to have been in reference to the ocean liner Queen Elizabeth 2 (QE2) which was launched in 1967.
Between the late-1960s and mid-1970s, Bette Davis gave her driver a gift to commemorate their relationship. This gift was a 9ct gold cigarette case with a personalised engraving. She also sent Gleeson and his wife Margaret Christmas cards and letters over the years.
Cigarette Case at Auction
In our November Fine Jewellery auction, we will sell the 1960s 9ct gold cigarette case, presented by Bette Davis to Johnny Gleeson.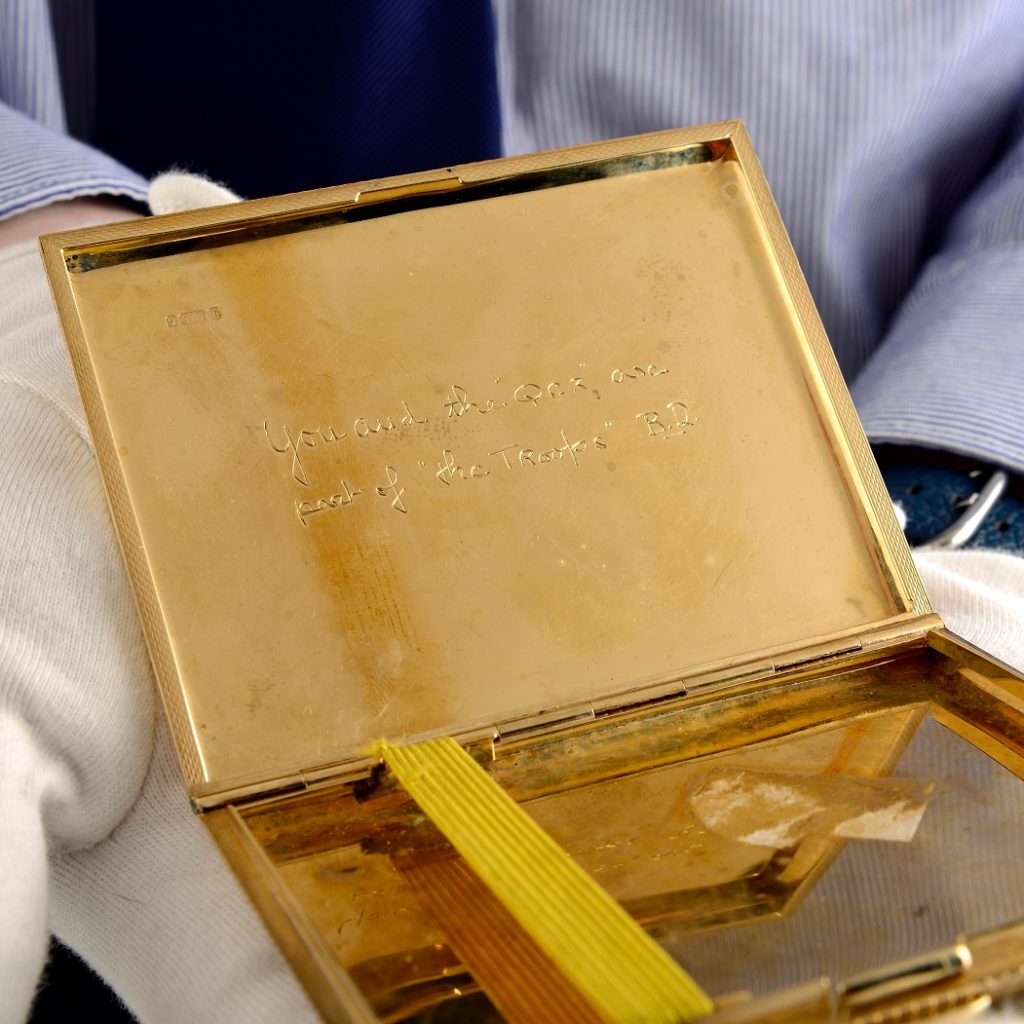 The cigarette was made by Kurt Weiss Ltd in 1968 in London. It was sold by Garrard & Co. Ltd. on Regent Street, London.
Hallmarks for London, 1968.
It measures 9.2 cm and weighs 93.7gm.
It will feature as Lot 308 with an estimate of £1,800 – £2,400.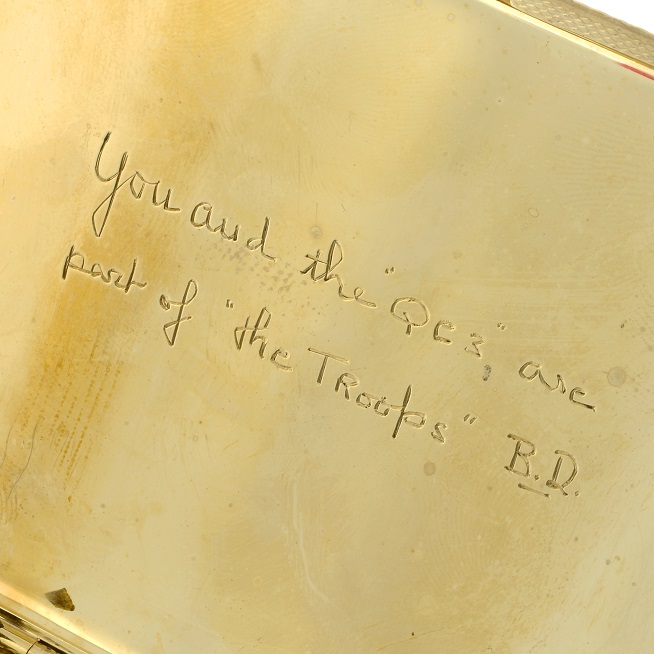 The engraving inside reads:
You and the "QE3" are part of "the Troops" B.D.
The "QE3" refers to Gleeson's Rolls Royce and "the Troops" was Davis' nickname for her entourage.
Make sure you don't miss finding that special something by signing up for our emails. You'll be the first to know when catalogues become available, receive invitations to special events, and preview the hottest lots from our auctions, plus much more. You can also set up lot alerts, to tell us exactly what you are looking for. Our personal shopping service will make sure that you are the first to hear about it.
Valuations
Our valuations are free, with no obligation to sell with us. Our experts will value your item with an estimate, so you can find out what it could achieve at auction.
The process is simple. You can fill in a form online or book an appointment to visit either of our offices in Birmingham or London. Virtual valuation appointments are also available.