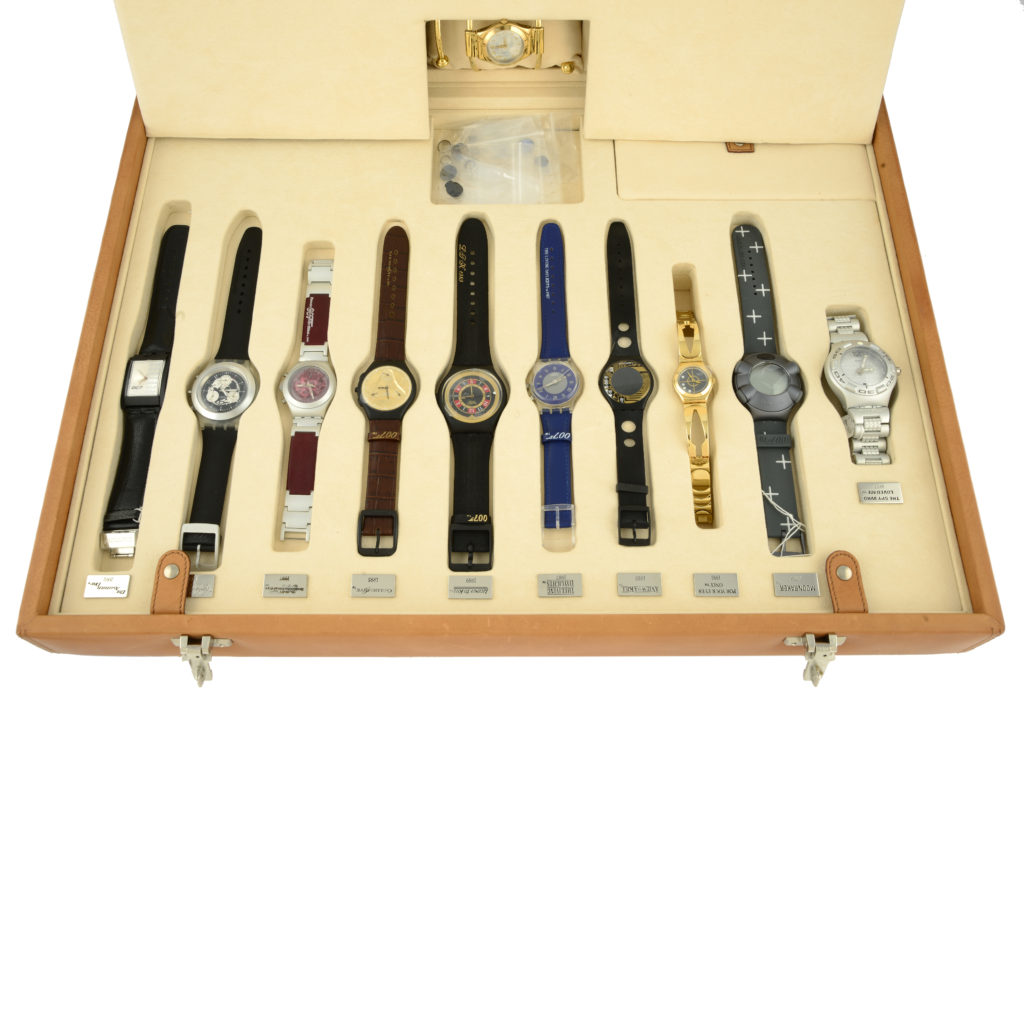 A limited edition set of James Bond watches is set to cause a stir at our upcoming auction, one week before the release of the next James Bond film – No Time To Die.
Only 280 of these sets exist worldwide. There are 20 Swatch timepieces on offer. Moreover, they each relate to a separate Bond flick, spanning 40 years of cinematic history.
History of the Bond Watches
Each individual watch has its corresponding film listed underneath its suitcase slot. The watches range from Dr. No (1962), to Die Another Day (2002).
The collection was released on the 40th anniversary of the first film – between Pierce Brosnan and Daniel Craig's stints as 007.
As a limited collection, they are all numbered 139 of 280 ever made. The quartz watches were created in the style of their film, with the straps and dials also featuring their film titles and the 007 wording.
Since the 2002 40th anniversary set, Swatch have released several 007 collections – including a villain and a Q collection. A newer 007 collection Swatch watch will be worn by Q in the upcoming No Time To Die film.
Kes Crockett, Watch Specialist at Fellows Auctioneers, said: "This fascinating collection of limited edition James Bond watches should be on the wish list of all 007 fans. The 20 timepieces elegantly represent the films spanning a 40-year period and the suitcase only adds to the sophistication of the lot.
"The Watches & Watch Accessories auction is live now and bids can be placed all the way up until 20th September. This is a unique opportunity to buy an incredibly rare batch of watches which are all in a great condition. With the release of No Time To Die on the horizon, this James Bond collection is simply unmissable!"
The Auction
We will be showcasing the earliest set of Swatch James Bond timepieces, which will undoubtedly be highly coveted at auction.
The watches come in a stylish presentation suitcase and could sell for in excess of £2,000 in our upcoming Watches & Watch Accessories auction.
Featuring as Lot 67, the James Bond collection has an estimate of £2,000 – £3,000 in our timed auction which closes on Monday 20th September.
The watch collection has been consigned by a private collector.
The Watches & Watch Accessories sale includes hundreds of watches, watch parts and accessories at modest price points. Furthermore, Fellows is offering free shipping on purchases, subject to terms.
A full list of James Bond films and their watches can be viewed via the website.
Valuations
Our valuations are free, with no obligation to sell with us. Our experts will value your item with an estimate, so you can find out what it could achieve at auction.
The process is simple, so you can get a valuation now:
Fill in a form online. In addition, you can book an appointment to visit our offices in Birmingham and London. Moreover you can book a virtual valuation appointment.