Gretna Green is a small parish in southern Dumfries and Galloway, sitting just on the border between Scotland and England. While the village is relatively normal and small, it boasts an incredibly interesting history, triggered by a social phenomenon. In 1753/4, Lord Hardwicke's Marriage Act was passed, which forbade couples under 21 from marrying in England or Wales. As such, Gretna Green – almost by proxy – became the place for eloping young couples to get married. Couples from all over England and Wales would make the trek up to Scotland, and as Scotland law allowed for "irregular marriages" if there were two witnesses almost anyone could conduct the ceremony. Soon enough, blacksmith locals began to precede over the ceremonies, becoming known as "anvil priests".
Anvil Priests
Gretna Green was the first village a traveller would come to when entering Scotland along the historic coach routes, and the blacksmiths were one of the first shops you would be greeted by. All that was needed for the ceremony was a declaration in front of witnesses, so if the couple came without, the blacksmith would provide them. The ceremony would be short, the couple would hold hands across the anvil and be pronounced man and wife. As they were typically in a hurry to get married – and usually rich – the "anvil priest" charged what he liked.
These marriages were especially popular in the Regency period but continued until 1940. Jane Austen fans and Regency enthusiasts might recall that in Pride and Prejudice, Lydia Bennett attempts to elope to Gretna Green with Mr Wickham, but her plan fails and she is later found in London. Because of this, Gretna Green weddings have become culturally iconic, featuring in other period shows such as Downtown Abbey, Poldark, and Bridgerton.
£1 Marriage
One of the earliest "anvil priests" was Joseph Paisley, the self-styled parson. He was a tobacconist/fisherman turned blacksmith. However, he abandoned this when he found there was far more money to be had in marrying young couples. The last was Richard Rennison. Over his career (1926-1940), he is said to have conducted 5,147 weddings. During his ceremonies, he would strike the anvil with his hammer to signify the couple's marriage, typically charging £1 per couple. In 2017, this would have been worth around £45.
As he was so committed to his career Rennison was never without his anvil, and would regularly bring it with him when he travelled to London despite it weighing over 110kg. Rennison was so prolific that a special committee was formed to investigate these "irregular marriages", and the committee's findings eventually led to these marriages being outlawed. Rennison continued to appear at weddings, but from then on in a purely symbolic role.
Today, couples still flock to Gretna Green to partake in this historic tradition. The village is home to two blacksmith shops and many inns, all of which have become the venue for weddings. Nearly all ceremonies conducted in Gretna Green today are performed over the iconic anvil.
The Blacksmith and Anvil Charm
The blacksmith and his anvil have become representative of the Gretna Green weddings, and remain symbolic of elopements. In our upcoming Jewellery auction on the 28th of June we have a delightful lot, perfect for any newlyweds, or soon-to-be-weds! Lot 833 is modelled after a blacksmith working in 'Ye Old Smithy'. This small charm is articulated, and when the handle is moved on the reverse, the blacksmith begins his work. This lot is a perfect way to commemorate your happy day due to its symbolic links to this romantic tradition.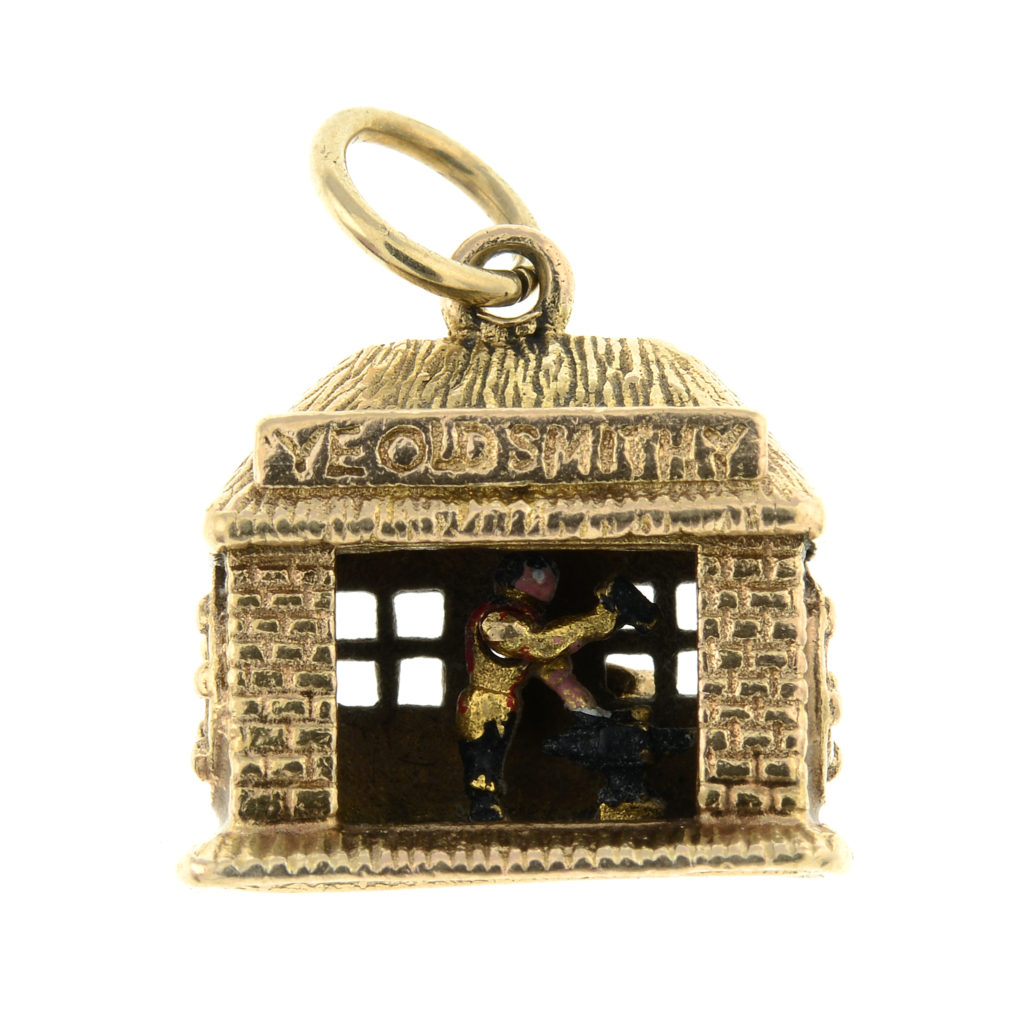 A 9ct gold enamel articulated 'Ye Old Smithy' blacksmith charm/pendant.
Estimate: £60 – £90
Valuations
Our valuations are free, with no obligation to sell with us. Our experts will value your item with an estimate, so you can therefore find out what it could achieve at auction.
The process is simple. You can fill in a form online or book an appointment to visit either of our offices in Birmingham or London. Virtual valuation appointments are also available.
Make sure you don't miss finding that special something by signing up for our emails. You'll be the first to know when catalogues become available, receive invitations to special events, and preview the hottest lots from our auctions, plus much more. You can also set up lot alerts, to tell us exactly what you are looking for. Our personal shopping service will make sure that you are the first to hear about it.
Cordelia Porter | BA (Hons), MRes