A pair of memorial brooches discovered among costume jewellery are due to be sold at our Fine Jewellery auction on Thursday 25th November.
The brooches memorialise 19th Century soap tycoon Edward Cook and his wife Anne (née Rider).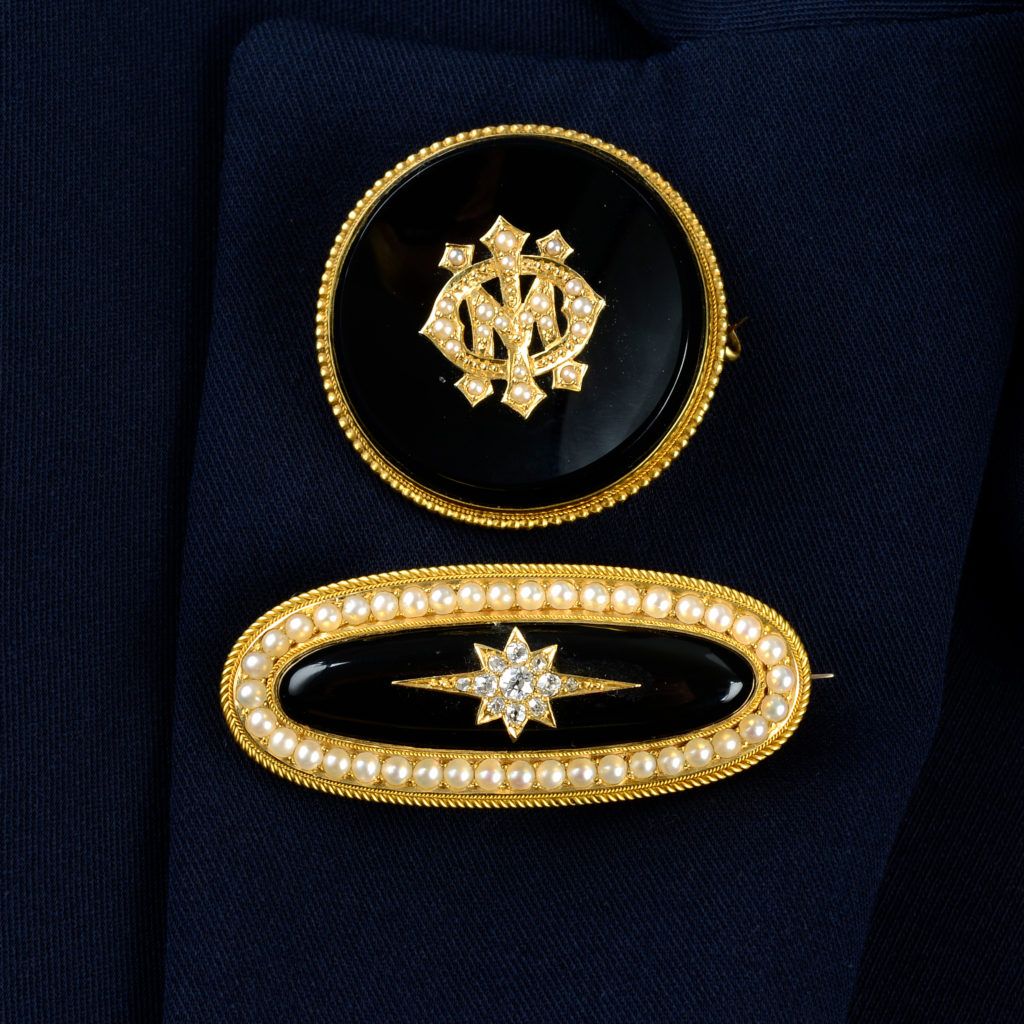 Discovered in a consignment of costume jewellery that was being auctioned to benefit Alzheimer's Society, the brooches were immediately identified as being Victorian gold memorial pieces. Further research revealed them to be sentimental mourning pieces, thought to have belonged to close friends or family of the couple.
Both crafted from onyx and gold with split-pearl accents, the brooches are inscribed "Anne Cook born July 4 1814 died March 21 1884" and "Edward Cook born July 22 1810 died April 21 1886". The brooch for Anne Cook features an additional diamond star. Valued at £400-600, we anticipate keen interest in this lot.
Edward Cook was a soap maker who built a successful business in the nineteenth century. A respected businessman, he became a Freeman and Liveryman of the Tallow Chandlers' Company in 1839. Edward Cook & Company Limited, or 'Cook's of London' as it also became known, produced some of the UK's most popular brands of soap and disinfectants, including Cook's Primrose Soap.
Cook's are often remembered for producing one of the very first antiseptic soaps, Asepso, which is still in production today. Edward was highly successful in his life, leaving an estate worth many millions in today's money.
Anne and Edward Cooke
Anne and Edward Cook were married in 1835 at St Saviour Southwark. Records show that during their 49-year marriage the couple had at least 11 children, including Edward Rider Cook who was a Liberal politician and MP for West Ham North.
We have placed the brooches together as one lot to preserve their provenance.
"To have two surviving brooches commemorating not only one individual, but a husband and wife is such a rarity. I cannot help but feel a deep longing to keep the two brooches together so that they might still be close, even in death."

Ben Randall, Senior Specialist, Fellows Auctioneers.
The Auction
The Fine Jewellery auction will take place Thursday 25th November at 10am.
Valuations
Our valuations are free, with no obligation to sell with us. Our experts will value your item with an estimate, so you can find out what it could achieve at auction.
The process is simple, so you can get a valuation now:
Fill in a form online. In addition, you can book an appointment to visit our offices in Birmingham and London. Moreover you can book a virtual valuation appointment.