Charles Horner (1837 – 1896) from Yorkshire, was a prominent jeweller in the late 19th. Born to a local weaver in Ovenden, his business was founded in 1860s Halifax. Although the company was known for producing a wide range of jewellery and silver objects, they were particularly recognised for their Arts and Crafts and Art Nouveau enamelled pendants. You can read more about Arts and Crafts jewellery here. Although Horner passed before the turn of the century, his company continued with the help of his sons, it survived both world wars, and continued producing jewellery till the 1980s.
Development of the Company
Horner's business, Charles Horner of Halifax, first grew to notoriety due to the development of the 'Dorcas' thimble. This was patented in 1884. These thimbles differed from the ones before as they had a layer of reinforced steel in between the decorated silver shell. Prior to this, thimbles were often made of a softer silver that did not stop sewing needles from pricking the skin. The Dorcas thimble was incredibly popular. Although the company also produced traditional silver hallmarked thimbles and jewellery, the Dorcas thimble was most likely the innovation that earnt the company acclaim and allowed them to expand. The thimbles continued to be in production until 1947. At Fellows, we have had several thimbles by Charles Horner pass through our auctions. A particularly charming example along with a mother of pearl box sold in 2016: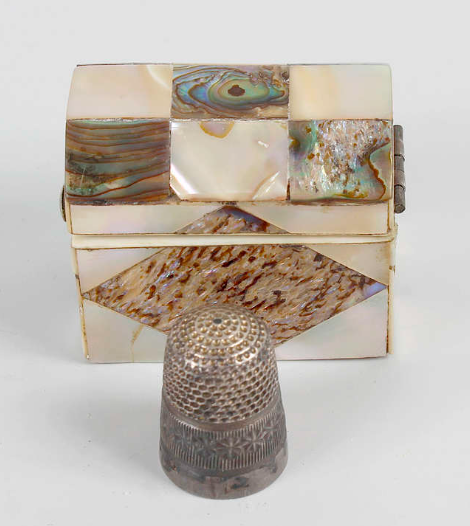 A Victorian mother-of-pearl and abalone thimble case.
Price Realised: £82.94
After their father's death in 1896, his two sons – James Dobson and Charles Henry Horner, took over the company. After they took over, they began a partnership with Charles William Leach. 1905 was an important year for the business as they expanded into a new factory at Mile Cross in Halifax. Production grew at the factory as they produced a wide range of items such as clocks and tableware.
Jewellery and style
Despite the wide range of objects produced at the Charles Horner Factory, they continued to be well-know for their Art Nouveau jewellery, especially their silver enamelled pendants. Art Nouveau is defined by natural shapes and sinuous lines, that result in ethereal and alien pieces. The undulating outlines separate Art Nouveau from earlier styles. Skilled silversmiths were able to transform the cold metal into organic forms. Following the examples set by jewellers such as Philippe Wolfers, Horner incorporated opalescent enamel into his designs. We have sold many examples of Horner's Art Nouveau enamelled pendants in the past, such as this pendant that sold at auction in 2022.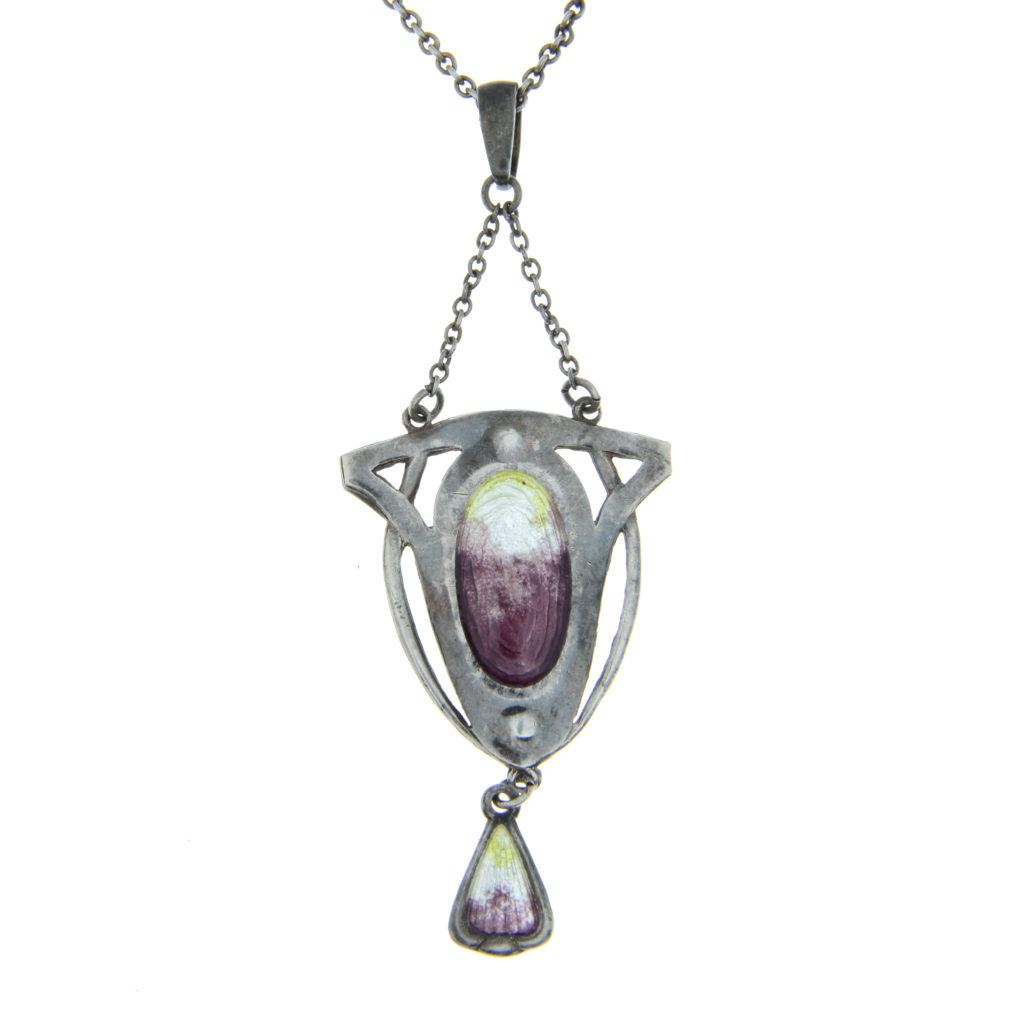 An Art Nouveau silver and enamel pendant, with chain, by Charles Horner.
Price Realised: £338.00
The early 20th century also saw an increase of interest in Egyptian culture. During the 19th century there was a variety of cultural events that spiked interest in the ancient world; Napoleons Egyptian Campaign, deciphering of hieroglyphics, and the building of the Suez Canal. These all trickled down into popular culture and a fashion for ancient Egypt emerged. One area of design that reflected this is jewellery. Horner blended the Art Nouveau style with this Egyptian revival, resulting in otherworldly enamelled scarab pendants. An example of this is this necklace that we sold in 2013.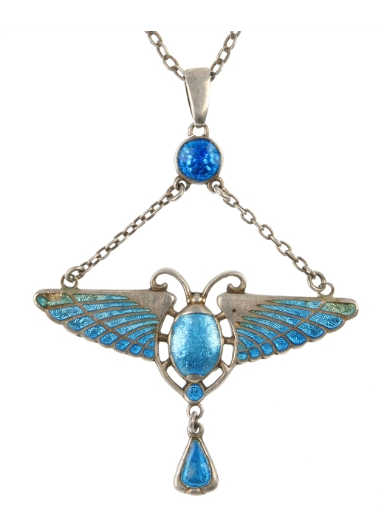 CHARLES HORNER – an early 20th century silver enamel pendant.
Price Realised: £357.28
Another area in which the Horner factory thrived was hatpins – they even had a dedicated hatpin department! Changes in fashion towards the end of the 19th century meant that bigger hats required more hatpins. This lead to beautiful designs such as these which were sold in 2015.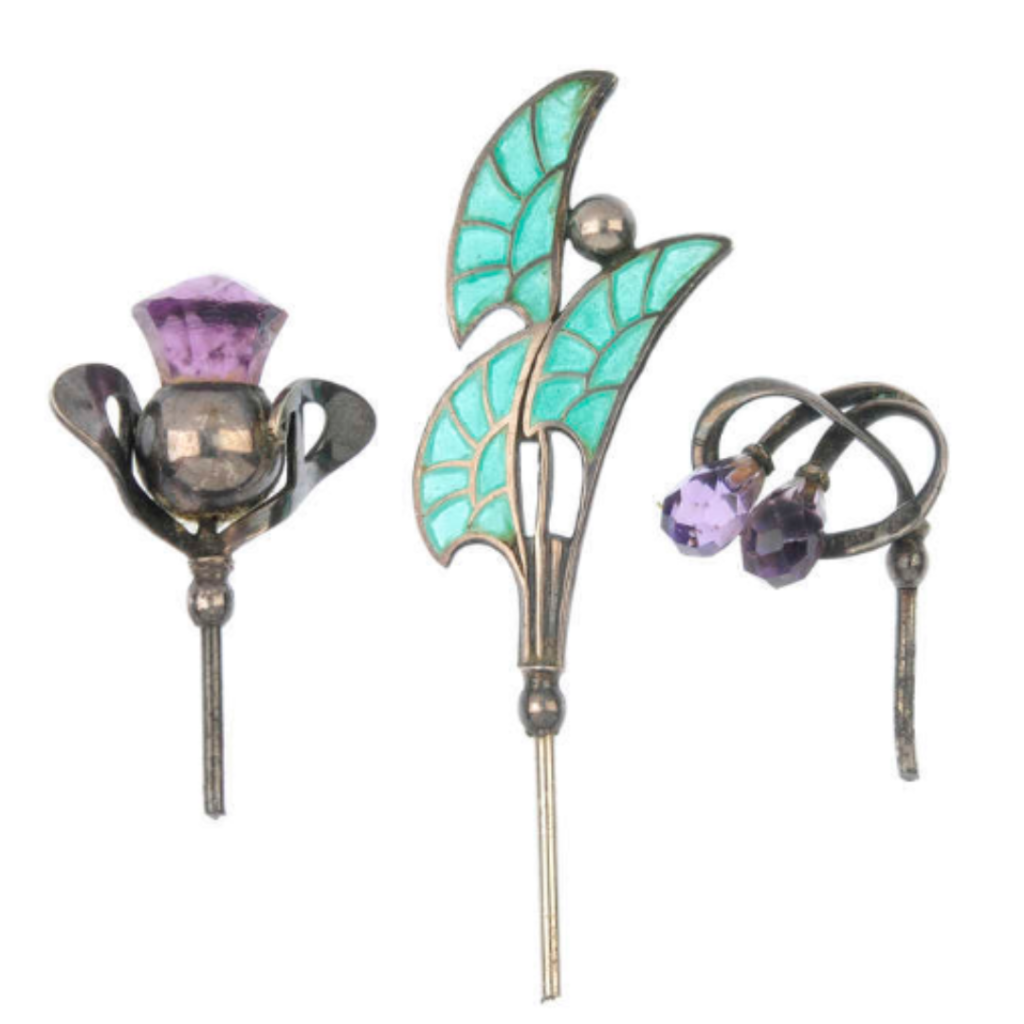 CHARLES HORNER- three Edwardian silver hatpin heads.
Price Realised: £484.88
Charles Horner in Upcoming Auctions
Here at Fellows, we consider ourselves lucky to have such a wide range of jewellery come through our doors, especially items such as these which are all stunning displays of craftsmanship. If any lots mentioned have piqued your interest, you should watch out for similar items in our upcoming sales. In our Jewellery | Day Two auction on 21/06/2023 we have several examples of work by Charles Horner, some of which include Lot 789 and Lot 822 – both stunning examples of enamel work. And for the silver lovers there is Lot 960.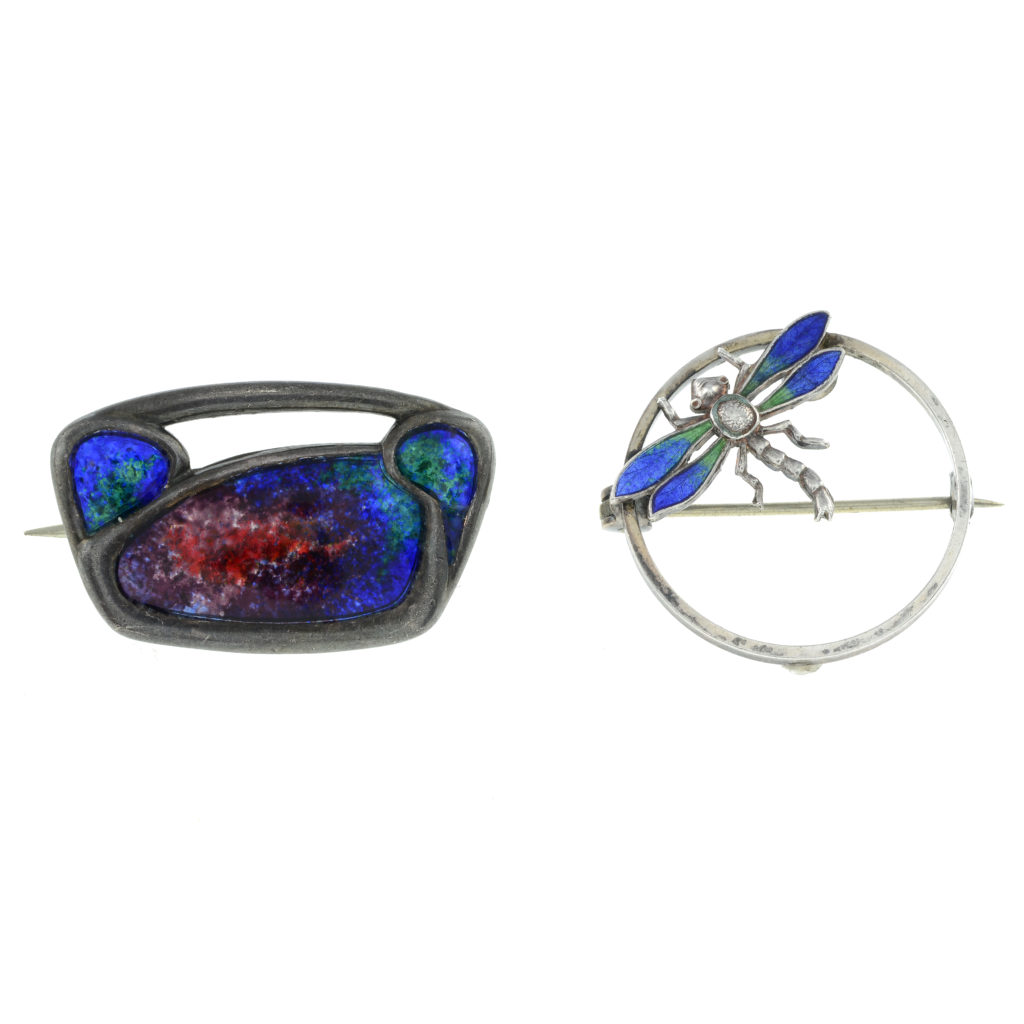 Two Edwardian silver and enamel brooches, by Charles Horner.
Estimate £60 – £90
Two early to mid 20th century colourless paste single-strand necklaces.
Estimate £40 – £60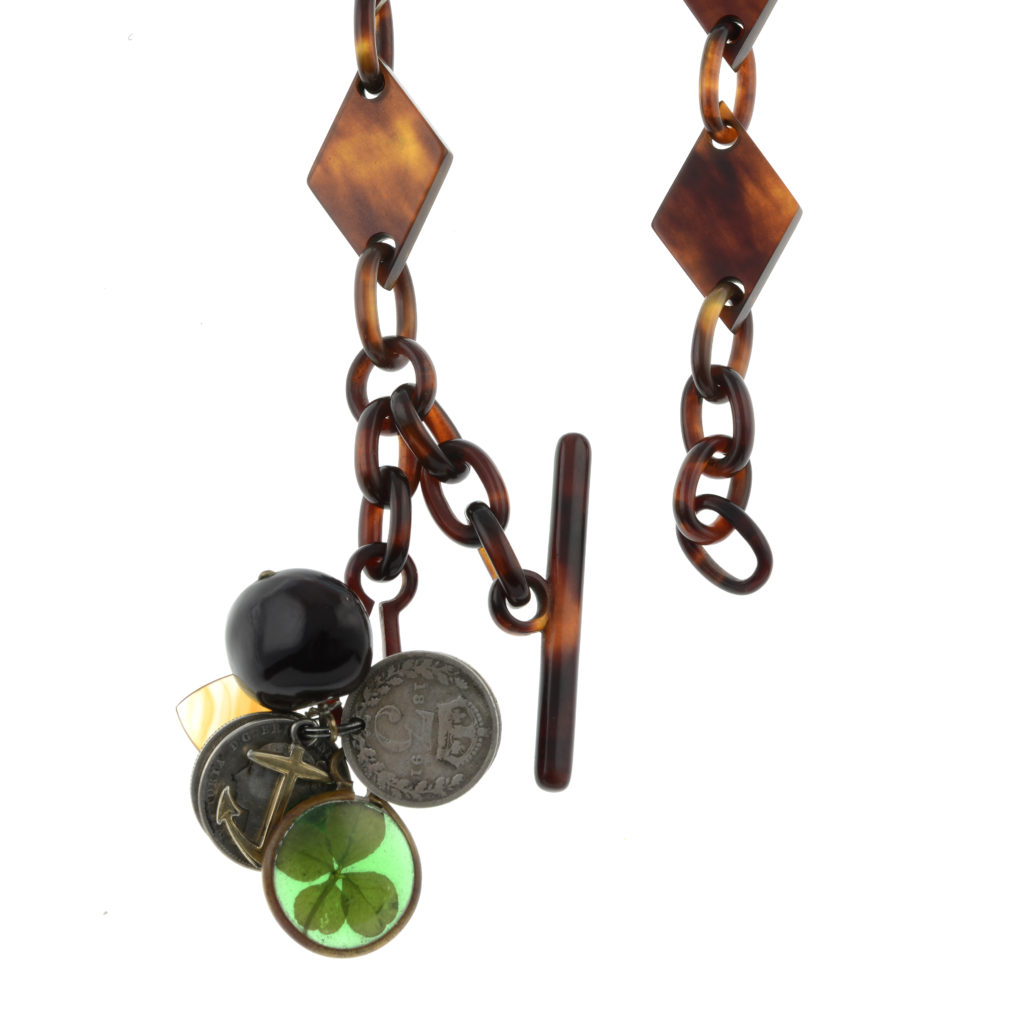 An early 20th century silver engraved bangle, by Charles Horner.
Estimate £70 – £100
Valuations
Our valuations are free, with no obligation to sell with us. Our experts will value your item with an estimate, so you can therefore find out what it could achieve at auction.
The process is simple. You can fill in a form online or book an appointment to visit either of our offices in Birmingham or London. Virtual valuation appointments are also available.
Make sure you don't miss finding that special something by signing up for our emails. You'll be the first to know when catalogues become available, receive invitations to special events, and preview the hottest lots from our auctions, plus much more. You can also set up lot alerts, to tell us exactly what you are looking for. Our personal shopping service will make sure that you are the first to hear about it.
Cordelia Porter | BA (Hons), MRes