By Georgina Izzard
For a jewellery house that created some of Paris' most celebrated and influential jewellery for more than eight decades, the jewels of maison René Boivin are still considered relatively elusive. Finding a Boivin jewel does not happen every day, but when you do, you'll recognise the maison's distinctive style.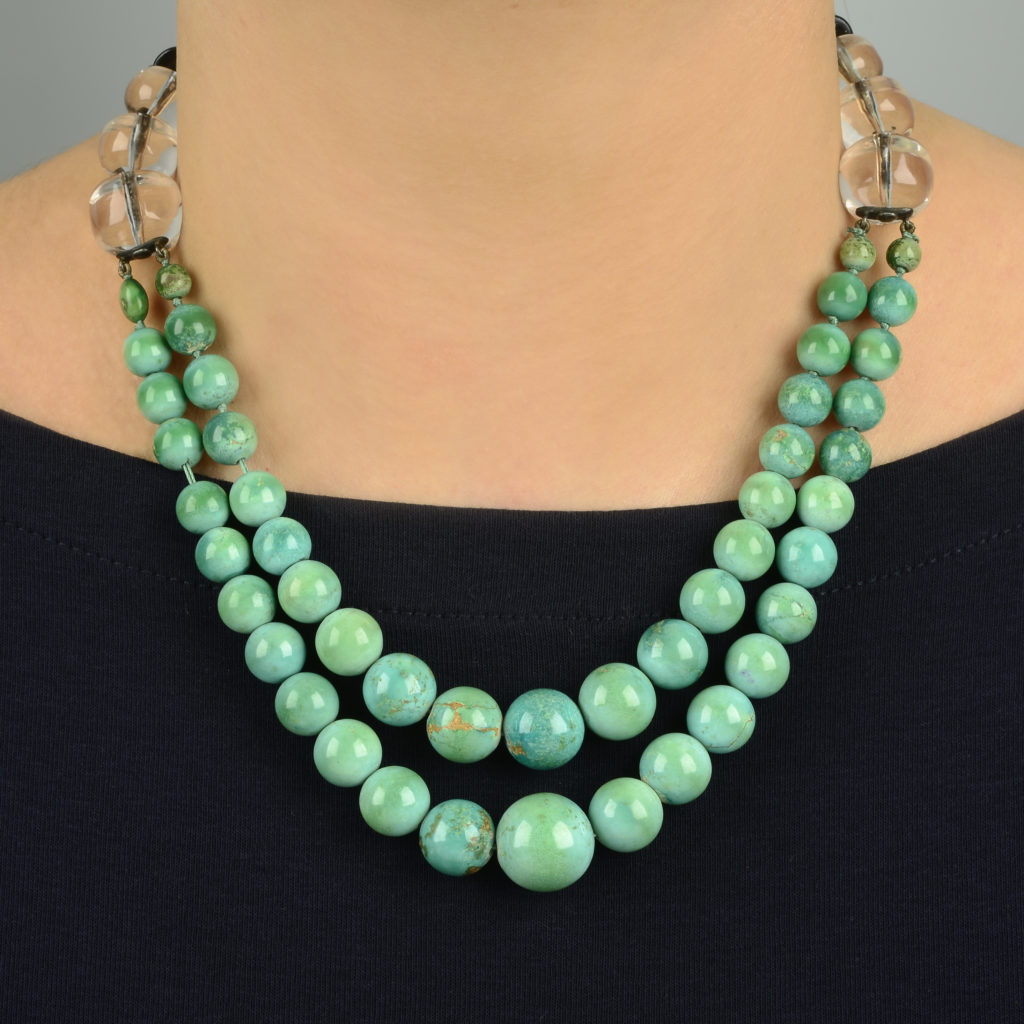 The René Boivin necklace in our 26 May 2022 Fine Jewellery auction is a case in point: it marries bold colours with unusual stone combinations and the curved shapes the maison championed.
Two rows of turquoise beads, graduated in size, are suspended on each side from a line of three rounded rock crystal beads, whilst the black-enamelled silver half hoop at the back of the necklace also features tapered curves that hug the neck and draw your eye to the beads. The concealed clasp in the hoop closes with a satisfying click – the sign of good craftsmanship.
René Boivin History
For a firm named after one man – René Boivin (1864-1917) – this jewellery house's history and success was, in fact, dominated by women. Having completed his apprenticeship and proved himself to be a master designer and engraver, René had the confidence and the capital to establish his own workshop in 1890, and was soon joined in business by his wife, Jeanne Boivin (1871-1959), née Poiret.
Each invested their talents in the business: René had an eye for design and colour and a willingness to experiment with materials, whilst Jeanne brought her business acumen to run the workshop and accounts, plus her innate sense of style and some influential friends. As older sister to the famed couturier Paul Poiret, known for his flowing – and daring – womenswear, Jeanne recognised the potential of advantageous networking between both houses' clients; as such, the Boivins worked hard all day in the workshop and even harder networking at soirées.
René's jewels often incorporated his love of nature. Floral brooches depicted foxgloves and orchids and their naturalistic colour palettes were created through René's openness to using all gemstones, not just rubies, emeralds and sapphires. His sudden death aged 53 left a successful but still relatively young jewellery house, in comparison to the grand Parisian maisons like Mellerio and Boucheron, which Boivin had once made for. Unusually for the period and almost unheard of in the male-dominated jewellery industry, Jeanne took over the ownership and running of the business; she had a firm idea of the Boivin style and how she wanted to take it forward.
The Following 40 Years
Over the following 40 years, Madame René Boivin assembled a formidable team of female designers. Their daughter Germaine, had the same sense of colour as her father. She joined the firm alongside a Suzanne Belperron, who achieved such design success for Boivin that she was invited to establish her own firm. This was with stone and pearl dealer Bernard Herz. Belperron's departure allowed designer Juliette Moutard to rise in the ranks. She remained in the company's stable of top designers until she retired.
All three women created their own interpretations of the Boivin style and Madame Boivin channelled her own design visions through them. Together, they embraced warm, curved jewels in yellow gold that offered their increasingly international clientele an exciting change from the platinum and diamond jewellery of the French Belle Époque jewellery and the geometric lines of the later Art Deco jewels made by their competitors.
Boivin jewels became so distinct that they needed few identifying features other than their style; though if you look closely, many, like this necklace, display the French poinçon, or maker's mark, for René Boivin, with the initials 'RB' stamped either side of a serpent. Yet, what really signs this necklace as Boivin is its confidence in its simplicity – Madame René Boivin knew what she was doing and she did it well.
Valuations
Our valuations are free, with no obligation to sell with us. Our experts will value your item with an estimate, so you can find out what it could achieve at auction.
The process is simple, so you can get a valuation now:
Fill in a form online. In addition, you can book an appointment to visit our offices in Birmingham and London. Moreover, you can book a virtual valuation appointment.