This week's two-day Jewellery auctions include a fascinating 19th century gold carnelian Halley's Comet intaglio fob.
The intaglio jewellery is expertly crafted. Intaglios expressed wealth and taste throughout the centuries.
Up for auction in October 2021, the Halley's Comet intaglio is in a good condition for its age.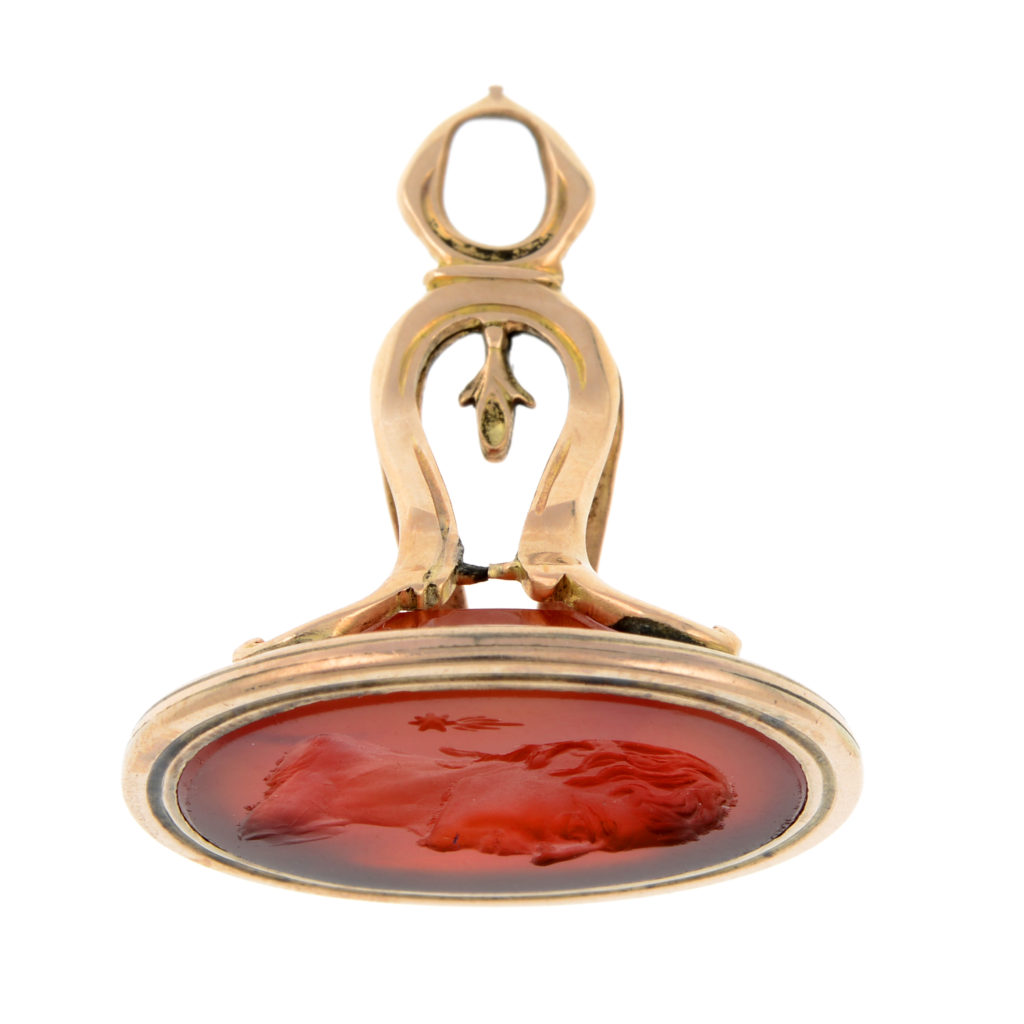 Lot 6
An 19th gold carnelian intaglio fob, depicting Edmond Halley and his comet.
Length 2.8cms. 6.9gms.
Estimate: £100 – £150
Halley's Comet
Halley's Comet, visible on Earth every 76 years, last appeared in 1986. Moreover, sightings of the comet have been traced back to over 2,000 years by astronomers.
Arguably the most famous comet, it was named after the second Astronomer Royal in Britain – Edmond Halley.
Due to three separate sightings Halley concluded it was the same comet which appeared every 76 years.
Furthermore, in 1986 high-powered telescopes were able to pick up the alluring comet's sighting.
2061 will see the return of the comet as it travels around the sun.
The Auction
The October 5th and 6th two-day Jewellery auctions include just under 1,200 lots of phenomenal jewellery.
The range of items on offer in these sales is hugely diverse – from dazzling historic pieces to renowned brands. As a result, the likes of Cartier feature heavily in this sale.
The majority of items purchased will include free shipping. Moreover, bids can be placed on the timed auction throughout the duration it is online.
Birmingham will host physical viewing days and virtual viewings can be booked to view the intaglio fob.
Valuations
Our valuations are free, with no obligation to sell with us. Our experts will value your item with an estimate, so you can find out what it could achieve at auction.
The process is simple, so you can get a valuation now:
Fill in a form online. In addition, you can book an appointment to visit our offices in Birmingham and London. Moreover you can book a virtual valuation appointment.