A Manchester City English (FA) Cup medal awarded to William (Billy) Marsden Holmes in 1904 is set to catch the eye of football fans in our upcoming auction.
The historic medal was given out to the footballer for winning Manchester City's first ever major honour, 24 years after they were established as a football club.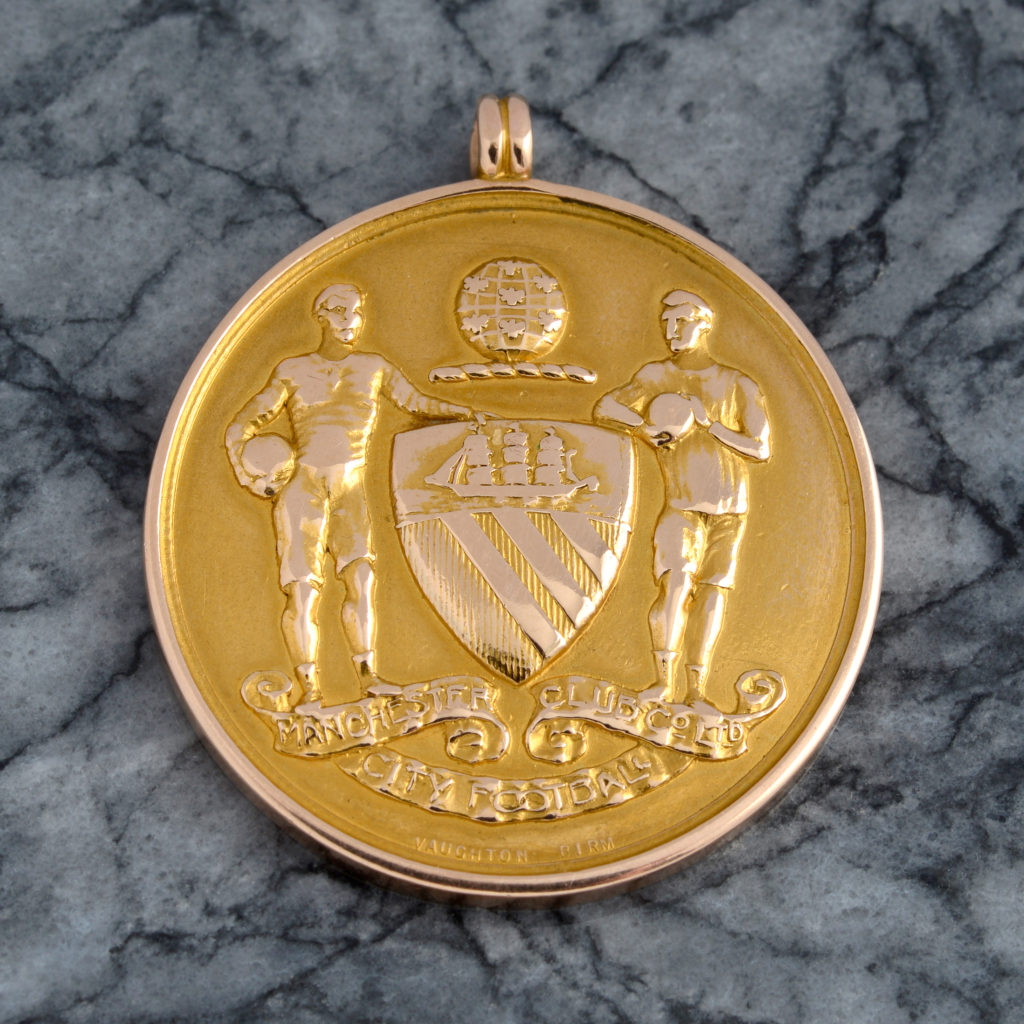 Awarded to Holmes after the English Cup final, it has an estimate of £5,000 – £8,000. The medal is likely to fetch more including fees.
The piece of sport memorabilia is Lot 392 in our Silver, Coins & Medals timed auction which takes place on Tuesday 1 March. Based in Birmingham and London, we will post the lot anywhere in the world to the winning bidder for free.
An inscription on the medal reads 'MANCHESTER CITY F.C. WINNERS OF ENGLISH CUP 1903-04 W.HOLMES'.
History of Billy Holmes
The 1904 English Cup was one of the most important tournaments in the history of Manchester football. It marked the first time a Manchester side reached the latter stages of the competition. it was also the first ever major honour given out to a Manchester football team.
Billy Holmes (1875 – 1922), was born in Derbyshire. He played over 150 matches for the current Premier League champions between 1896 and 1904, scoring four goals.
Nicknamed 'Doc', Holmes' fearless attitude made him one of the best defenders in the sport.
The defender played in the quarter and semi-final of the 1904 English Cup. Furthermore, he battled Samuel Bolton Ashworth for his position.
The Final
According to football author and historian Tony Matthews, Billy Holmes was not selected for the final against Bolton Wanderers. The footballer was so frustrated to be left out that he threw his boots through the dressing room window (Matthews, 2013).[1]
Manchester City defeated Sunderland, Woolwich Arsenal, Middlesbrough and Sheffield Wednesday to reach the final.
The final took place at Crystal Palace on Saturday 23 April 1904. It was attended by then Prime Minister Arthur Balfour and legendary cricketer W.G. Grace. Over 60,000 fans were in attendance.
Despite Holmes' anger at losing his place, Manchester City dominated the enthralling encounter. A solitary goal by renowned superstar William Meredith won Manchester City the match 1-0.
Billy Holmes was then awarded his medal, before continuing to play for Manchester City until the end of the same year.
Holmes went on to play for and then manage Leyton (formerly Clapton) Orient from 1907 until 1922. He died in 1922 whilst still manager of the east London club.
The Auction
The esteemed footballer's 15 carat gold winning medal is included amongst over 400 lots. Moreover, the medal was brought to Fellows by an unnamed private seller.
Alison Jakeway, Silver Specialist at Fellows Auctioneers, said: "Billy Holmes' English Cup winning medal is a piece of sporting history.
"The medal was given out following the first ever major competition win for a football team from the city of Manchester. It's a real privilege to include the medal in our Silver, Coins & Medals sale.
Manchester City are not only the current English champions but they are also one of the best football teams in the world at the moment, so I am sure there will be many enthusiastic customers who are desperate to win this at auction."
Valuations
Our valuations are free, with no obligation to sell with us. Our experts will value your item with an estimate, so you can find out what it could achieve at auction.
The process is simple, so you can get a valuation now:
Fill in a form online. In addition, you can book an appointment to visit our offices in Birmingham and London. Moreover, you can book a virtual valuation appointment.
---
[1] Matthews, Tony. Manchester City Player by Player. Amberley Publishing Limited, 2013.