When you think of military watches, usually the first examples that come to mind are the Dirty Dozens, A. Lange & Sohne pilot's watches or even Panerai Radiomir wrist watches made for the Italian Navy. One watch that is sought after, demands a premium, yet is regarded less in the grand spectrum of battle-hardened timepieces is the IWC Mark XI.
A bit of information on the IWC Mark XI…
As hardy and as durable as they come, made with a thick iron dial and wrap-around dust cover, this military issue wrist watch was highly regarded – for a lengthy 36 years – in the military and is still renowned to the collectors who seek them out, as if it was their own duty and mission objective.
The Mark XI is the only watch that was ever routinely serviced annually to ensure its high precision timekeeping. It's powered by the esteemed caliber 89, and its practicality never failed the pilots that wore this model. Waterproof, shockproof, and with an unmistakably clear-to-read dial, no wonder they were so highly regarded and well-kept. This watch was also briefly produced for the public towards the end of the models' run.
Clear quarterly luminous indicators and brightly contrasted white hour markers to the black backdrop of the iron dial made it easy for the pilots to read. Masterfully crafted all round, the British Broad Arrow was printed on the dial, case and even the movement. Lets take a look at an IWC Mark XI that we have up for sale in our upcoming Luxury Watch Sale.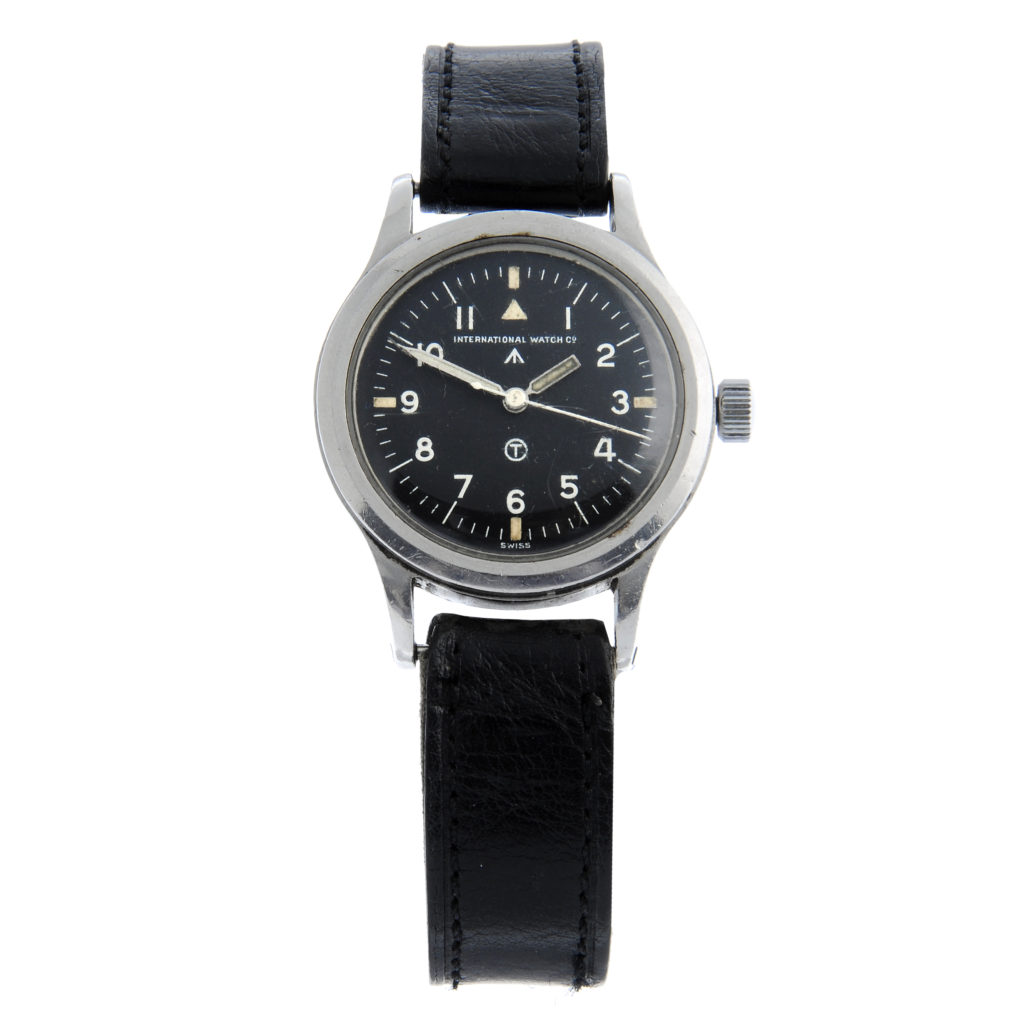 IWC – a stainless steel Mark XI military issue wrist watch, 36mm.
Estimate £3,000 – £4,000
What about the IWC Mark X?
The IWC Mark X was created as part of the Dirty Dozen bunch, which was created by twelve different Swiss brands in various limited batches. IWC created 5,000 of these military wrist watches for the Second World War. The Mark IX helped RAF pilots in the Battle of Britain, therefore they couldn't churn out Mark X's quick enough! They only slightly vary in aesthetic. With no subsidiary seconds' recorder dial but similar hour markers and quarterly luminous indicators also.
Recognisably descendant from the Dirty Dozen IWC, yet still standing out as its own model and relatively more modern looking than its predecessors. The last consignment of this model was delivered to the Australian air-force in 1978. Ten later after seeing the premium this watch demanded, IWC brought out the Pilots Watch Chronograph Mechaquartz. This was highly influenced by the Mark XI.
What happened once the Mark XI was discontinued?
After the Mark XI was discontinued there were numerous other 'Mark ***' pilot wrist watches brought out. One which was exceptionally rare, was the Mark XII as they were produced in extremely small numbers.
They continued this line but missed out 13 and 14 as the numbers are unlucky in parts of the world. The 19th edition was also missed but we'll move past that to the most recent example of the 'Mark' pilots' watches, the Mark XX, a 2022 release which is reportedly superior to the XVIII edition (but for $750 more!) it's obvious that these IWC's are still sought after whether a new release or one of the original XI pieces from 1948.
The Mark XX is still available to buy on IWC's website here
Auction Details
The Luxury Watch Sale | Thursday 13th July 2023
Viewings
London
Tuesday 4th July 12pm – 7pm
Wednesday 5th July 10am – 5pm
Birmingham
Wednesday 12th July 10am – 4pm
Thursday 13th July 8:30am – 10am
Valuations
Our valuations are free, with no obligation to sell with us. Our experts will value your item with an estimate, so you can therefore find out what it could achieve at auction.
The process is simple. You can fill in a form online or book an appointment to visit either of our offices in Birmingham or London. Virtual valuation appointments are also available.
Make sure you don't miss finding that special something by signing up for our emails. You'll be the first to know when catalogues become available, receive invitations to special events, and preview the hottest lots from our auctions, plus much more. You can also set up lot alerts, to tell us exactly what you are looking for. Our personal shopping service will make sure that you are the first to hear about it.
Kain Holroyd | Watch Cataloguer