By Natasha Davis, Watch Specialist at Fellows Auctioneers.
It's not often at Fellows that we'll pick up a watch and get so excited about the back of the piece, but this Limited Edition Bremont 1918 chronograph is the exception.
With only 275 stainless steel pieces created in 2018 by the British owned aviation-themed brand, this '1918' was released to commemorate the Royal Air Force's centenary. Taking a closer look at the rotor through the sapphire exhibition case back, you'll see a piece of veneered wood with three propellor blades attached, all materials sourced from four original RAF planes that were flown during both the first and second World Wars. Specifically, the propellor blades are composed of material from a Hawker Hurricane, a Supermarine Spitfire and a Bristol Blenheim.
The dial looks clean and uncomplicated too, even with its additional GMT, AM/PM indicator and chronograph functions. We're fortunate to also have its original limited edition booklets and box, accompanying Nato strap, and even a pair of Bremont cufflinks to accompany the piece.
This Bremont 1918 Limited Edition will be coming up for auction in our 15th February Luxury Watches Sale, alongside other Bremont models including a 'Supermarine S500' and an 'ALT1-C Anthracite' chronograph. With a catalogue estimate of £4,500 – £5,500, we're expecting it to fly…
Also up for auction in our next Luxury Watches Sale on 15th February is a Hublot Big Bang Limited Edition Sapphire 'Unico Magic' watch, its case carved entirely from blocks of transparent sapphire crystal.
Although it's not the first time that Hublot have dabbled with non-conventional materials for watches, their use of sapphire crystal as a case material is technically genius. Prior to Hublot releasing this 500 piece limited run, carved sapphire was really only seen in special 'one-off' editions, not really on the commercial market.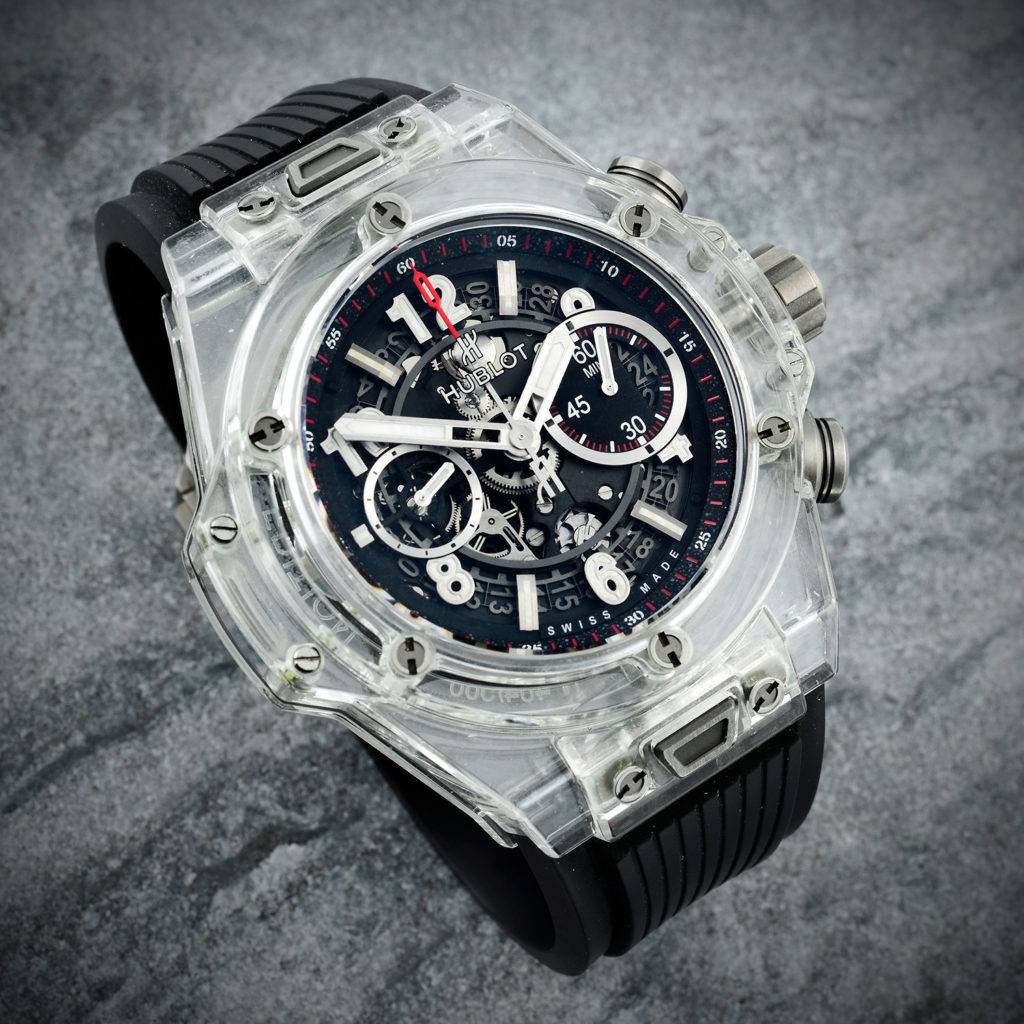 Measuring at 45mm, the case and dial are visually impressive, with the red detailing in the hands standing out against the grey dial, which is a subtle yet elegant touch. Importantly, from a practical point of view, sapphire being one of the hardest materials in the gemstone world would also make it a very difficult watch to scratch.
This will be the first time that Fellows have auctioned one of these models before. With a catalogue estimate of £14,000 – £20,000, it will be sold alongside a selection of other classic Hublot models in our February auction.