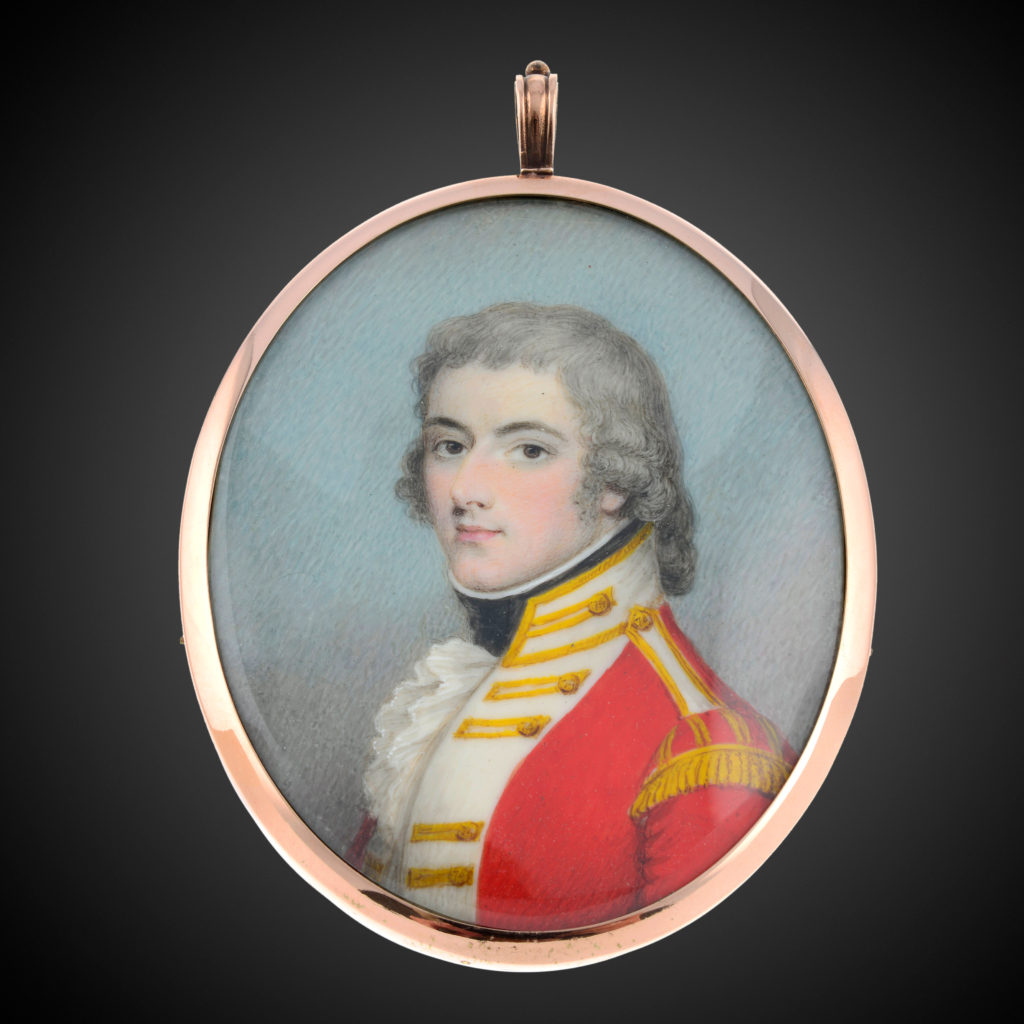 A portrait miniature of a 74th Regiment of Foot officer is included in our upcoming Fine Jewellery sale.
The miniature is hundreds of years old. It includes a woven hair memorial.
In 1787, Sir Archibald Campbell raised the 74th Regiment of Foot for service in India.
This particular miniature is circa 1800. The sitter is wearing a uniform according to the Clothing Warrant of 1796 with a stand up collar.
Lot 239 in the sale, It has a £700 – £900 estimate at auction.
The 74th Regiment of Foot
The sitter in the miniature would have possibly fought during the 18th century wars. The regiment served in the 1758, 1763 and 1777 wars but were disbanded after each one.
He also served under the Duke of Wellington (Sir Arthur Wellesley).
The British Army changed substantially in this period. As a result, in 20 years from 1793 the Army increased over six times from around 40,000 to 250,000 people.
The French Revolutionary Wars started this Army increase. Moreover, the sitter's regiment served in the Peninsular War from 1808 to 1814. The regiment gained eleven battle honours for those campaigns.
It was around this period that the miniature was designed.
Sporting a blue glass reserve, the item is in an overall good condition.
The Auction
Taking place on Thursday 30th September, the auction includes remarkable luxury jewellery.
A bracelet given out by Queen Victoria, a selection of 63 linked mourning rings, and jewellery by Erwin Springbrunn all feature.
The live sale will take place in Birmingham's Jewellery Quarter. In addition, customers can bid via multiple channels including in person, over the telephone or via the internet bidding platforms.
We are offering free shipping on items sold, subject to terms.
Valuations
Our valuations are free, with no obligation to sell with us. Our experts will value your item with an estimate, so you can find out what it could achieve at auction.
The process is simple, so you can get a valuation now:
Fill in a form online. In addition, you can book an appointment to visit our offices in Birmingham and London. Moreover you can book a virtual valuation appointment.