We are honoured to be able to offer this group of medals and family history for sale. It focuses on the life of Annie Goodwin a nurse in the Great War.
Through this collection of medals and documents, we can learn a lot about the life of Annie Goodwin and her family.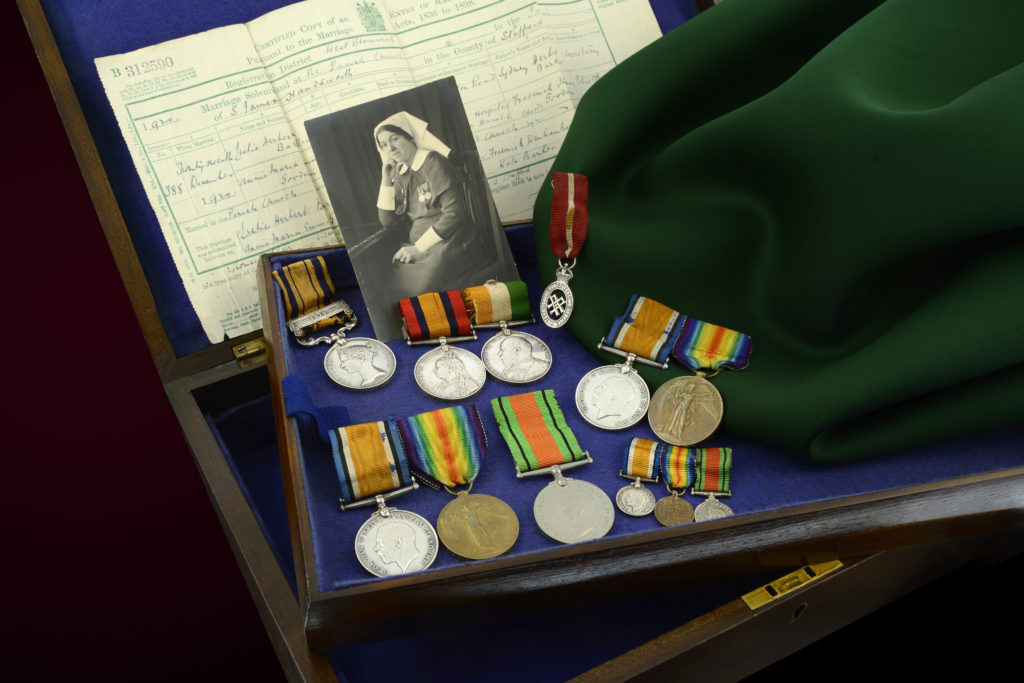 Annie Goodwin's family
The furthest back we can go in Annie's history is her parents. They are represented in this lot by a group of pre-WWI medals awarded to F. Goodwin and M. Williams. We believe that these are Annie's parents. Her father was Frederick Thomas Goodwin. Private F Goodwin received a South Africa Medal in 1879 for his time in The 57th (West Middlesex) Regiment of Foot during the Anglo-Zulu war. After his time in the army, he continued in public service, becoming a police officer.
Unfortunately, we only know Annie's mother's first initial and maiden name – M. Williams. She received the Queen's South Africa Medal and King's South Africa Medal for her time serving in the Second Boer War. Even though civilians, as well as military personnel, received this medal, we do not know in what capacity Annie's mother worked during this time. Neither her occupation nor her name is recorded on Annie's marriage certificate – only her father's are listed.
In 1920, Annie married Leslie Herbert Barker at St. James church in Handsworth on December 27th.
After the war, they both settled on Grafton Road, Handsworth, where they both remained until death.
Annie Goodwin's wartime contributions
Annie Goodwin served as a staff nurse in WWI. She received three medals for her service during this time – the British War Medal 1914-20 and Victory Medal, and the Territorial Force Nursing Service miniature medal. However, by the time she came to marry Leslie, her occupation was not listed on her marriage certificate. The only information we have on her is her condition as a "spinster".
About 7,000 civilian nurses received the Territorial Force Nursing Service medal. They volunteered their time to work in military hospitals. The Territorial Force Nursing Service is significant for its acceptance of married women into the service. Due to shortages of nurses during WWI, they changed their rules which traditionally required nurses to be unmarried or widowed with no dependents. Women serving in the Territorial Force Nursing Service were based across 25 UK-based hospitals and 18 overseas territorial hospitals.
Leslie's war service in WWI is represented in a Great War Pair – a British War Medal 1914-20 and Victory Medal. From this group and the later marriage certificate, we can deduce that Leslie served in the Royal Army Medical Corps in a scientific capacity. He was perhaps a "pharmacist at the front", as they were known.
We can assume from Annie's role as a nurse with the Territorial Force Nursing Service and Leslie's placement in the Royal Army Medical Corps, as well as their marriage relatively soon after the end of WWI, suggests they could have met while serving their country during WWI. After the war, they lived on Grafton Road, Handsworth, where they both remained for the rest of their lives.
Annie Goodwin's legacy
It is striking for a generational medal group to focus on a woman's biography and wartime contributions, and hinge around her life. However, as interesting as this lot is, we are missing a lot of information. It goes to highlight the erasure of women from the historical record. Both Annie and Leslie Goodwin's fathers and their occupations are on the marriage certificate, but not their mothers.
Despite Annie's obvious contribution to the First World War (as evidenced by her medals), her marriage certificate strikes her occupation, dismissing her role as a nurse.
Annie Goodwin's medals at auction
We will offer this interesting medal group for sale as lot 564 in the Silver Coins and Medals auction.
Silver, Coins & Medals
Tuesday 13th September 2022 at 9 am
Viewing Times in Birmingham
Friday 9th September 10:00 – 16:00
Monday 12th September 10:00 – 16:00
Virtual viewings are available by request. Virtual viewings are the ultimate personal shopping experience. Using Zoom, you can ask us whatever you need to know in order to buy with confidence. Find out more here. Please contact info@fellows.co.uk to book a virtual viewing.
Valuations
Our valuations are free, with no obligation to sell with us. Our experts will value your item with an estimate, so you can find out what it could achieve at auction.
The process is simple. You can fill in a form online or book an appointment to visit either of our offices in Birmingham or London. Virtual valuation appointments are also available.