The Omega stopwatch used by former English referee Jack Taylor (1930 – 2012) to time the 1974 World Cup final between the Netherlands and West Germany is going under the hammer at Fellows Auctioneers.
The extraordinary piece of football history assisted Taylor when awarding two penalties in the first 30 minutes of the match – including the second minute spot kick by Johan Neeskens which is still the fastest goal ever scored in a World Cup final. It was also the first ever penalty awarded in a World Cup final.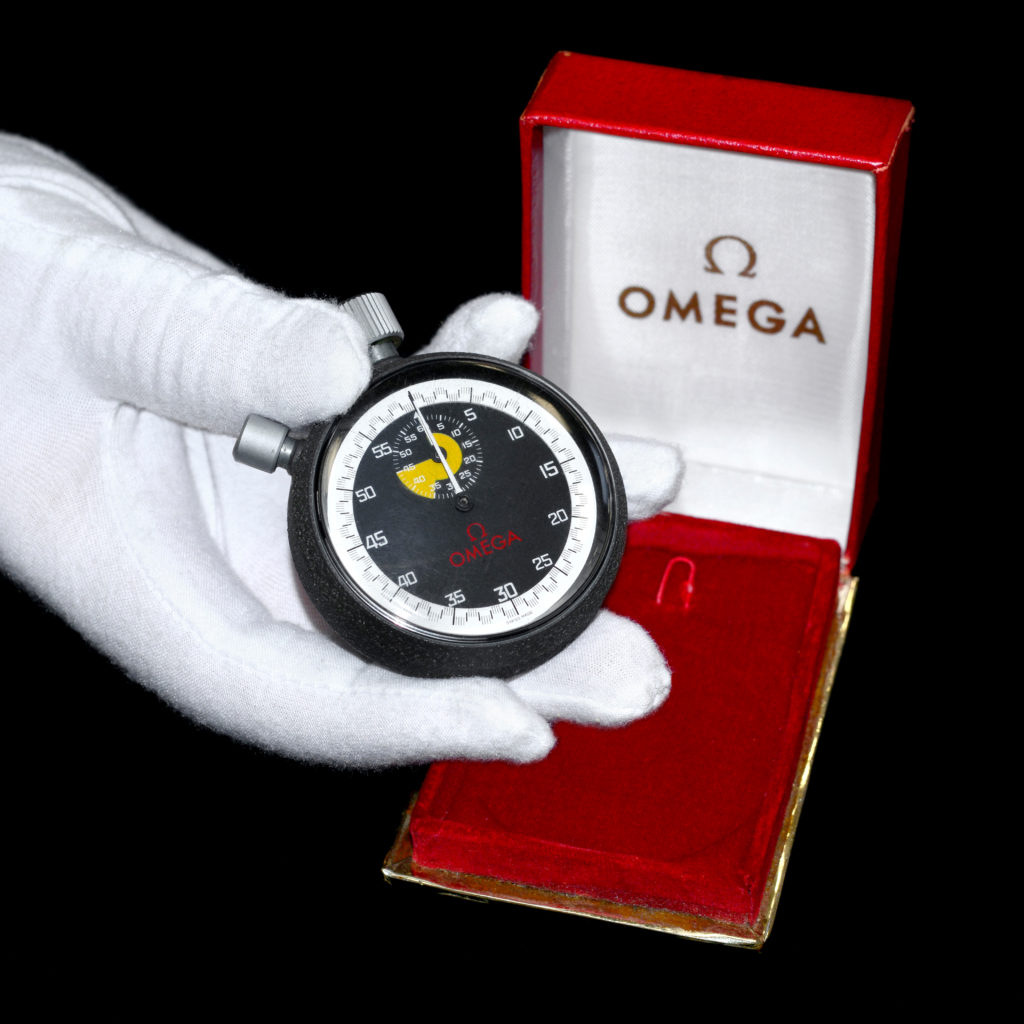 The stopwatch contains engravings including the official 1974 World Cup logo and Jack Taylor's initials. It has been entered into auction at Fellows by Taylor's family.
Fellows has placed an auction estimate of £3,000 – £5,000 on the item, which features in the Luxury Watch Sale – a live auction taking place in the Jewellery Quarter, Birmingham, on Monday 14th June. It will feature as Lot 175.
The 1974 World Cup final took place in Munich, with West Germany emerging as winners in a 2-1 victory.
Some of the most iconic names in the history of the sport were on show, including Johan Cruyff, Gerd Müller, and Franz Beckenbauer.
After awarding a penalty to the Netherlands in the first minute, before a German player had even touched the ball, Jack Taylor recalled that Franz Beckenbauer approached him and said "Taylor, you're an Englishman."
Taylor, born and raised in Wolverhampton, can be seen using the stopwatch in various videos and images of the match. He is one of only three Englishmen to have refereed a World Cup final.
It is not known why Taylor was able to keep the stopwatch, although it is likely that he was gifted it by FIFA.
He gave the stopwatch to his daughter, Jayne Willis, over forty years ago. It has remained – untouched – in a cabinet since the 1980s.
The watch still works, and it comes in its original Omega box, which also contains the name of the referee.
Measuring 54mm in diameter, and with a mechanical, hand-wound movement, the item will be sold alongside 200 other timepieces in the Luxury Watch Sale.
Jack Taylor took charge of more than 1,000 competitive matches over a 33-year career, including the 1966 FA Cup final and the 1971 European Cup final.
In 2013 he became the first referee to be inducted into the English Football Hall of Fame, after previously being inducted into the Fifa Hall of Fame in 1999.
He passed away in Shropshire in 2012, aged 82.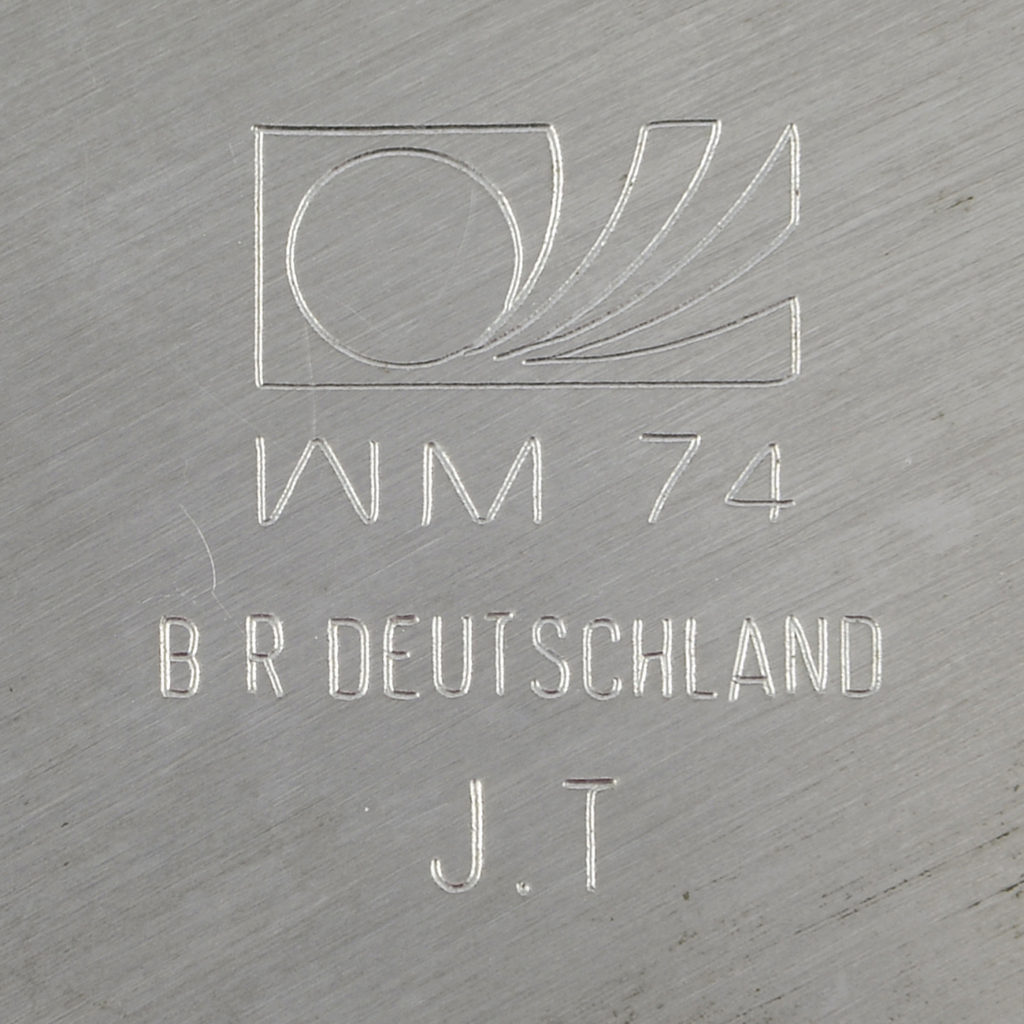 The stopwatch can be viewed in both London and Birmingham on selected dates. Virtual viewings can also be booked to view the timepiece, and Fellows is offering free shipping on the purchase of the item.
The viewing days are listed below:
8th June 2021 12pm – 7pm (London)
9th June 2021 9am – 1pm (London)
11th June 2021 10am – 4pm (Birmingham)
14th June 2021 9am -10am (Birmingham)
If you would like to register your interest in this lot, please contact hello@fellows.co.uk.
Steven Yambo, Senior Watch Specialist at Fellows Auctioneers, said: "I am over the moon to curate this auction. In the ten years that I have worked with watches, this is one of the most outstanding and significant items that we have ever had go under the hammer. Jack Taylor is one of the most notable referees in British history, and to auction the stopwatch that he used in an iconic match of this magnitude is a privilege.
"I anticipate a huge amount of interest in the item from around the globe, as it will not only be sought-after amongst watch collectors but football fans will be particularly keen. We are delighted that Jack's daughter is selling this item with us and we obviously hope it will achieve the best possible price."
Other highlights in the Luxury Watch Sale on Monday 14th June include:
IWC – an 18ct rose gold Portofino wrist watch, 40mm. Estimate: £5,000 – £6,000.
ROLEX – a bi-metal Oyster Perpetual Cosmograph Daytona chronograph bracelet watch, 41mm. Estimate: £8,000 – £12,000.
GLASHÜTTE ORIGINAL – a bi-metal Serenade wrist watch, 36mm. Estimate: £4,000 – £6,000.
CARTIER – an 18ct white gold Baignoire Joaillerie bracelet watch. Estimate: £3,500 – £4,500.
OMEGA – a stainless steel Seamaster chronograph bracelet watch, 38mm. Estimate: £2,200 – £3,000.