One of the most intriguing items in our upcoming sale is a military Royal Tank Corps brooch.
The WWI brooch is in a good condition for its age, and it has an estimate of £100 – £150 in the upcoming Jewellery sale.
History of the Royal Tank Corps
An early mention of land battleship was discussed in 1915 between Winston Churchill – then First Lord of the Admiralty – and Ernest Swinton. Swinton coined the idea of designing armoured vehicles which could be used on home territory.
The Heavy Section Machine Gun Corps (MGC) were subsequently established a year later under Swinton. This branch of the MGC were the first to start using tanks. The MGC became the Tank Corps shortly afterwards.
Six companies then began to develop the vehicles for military use.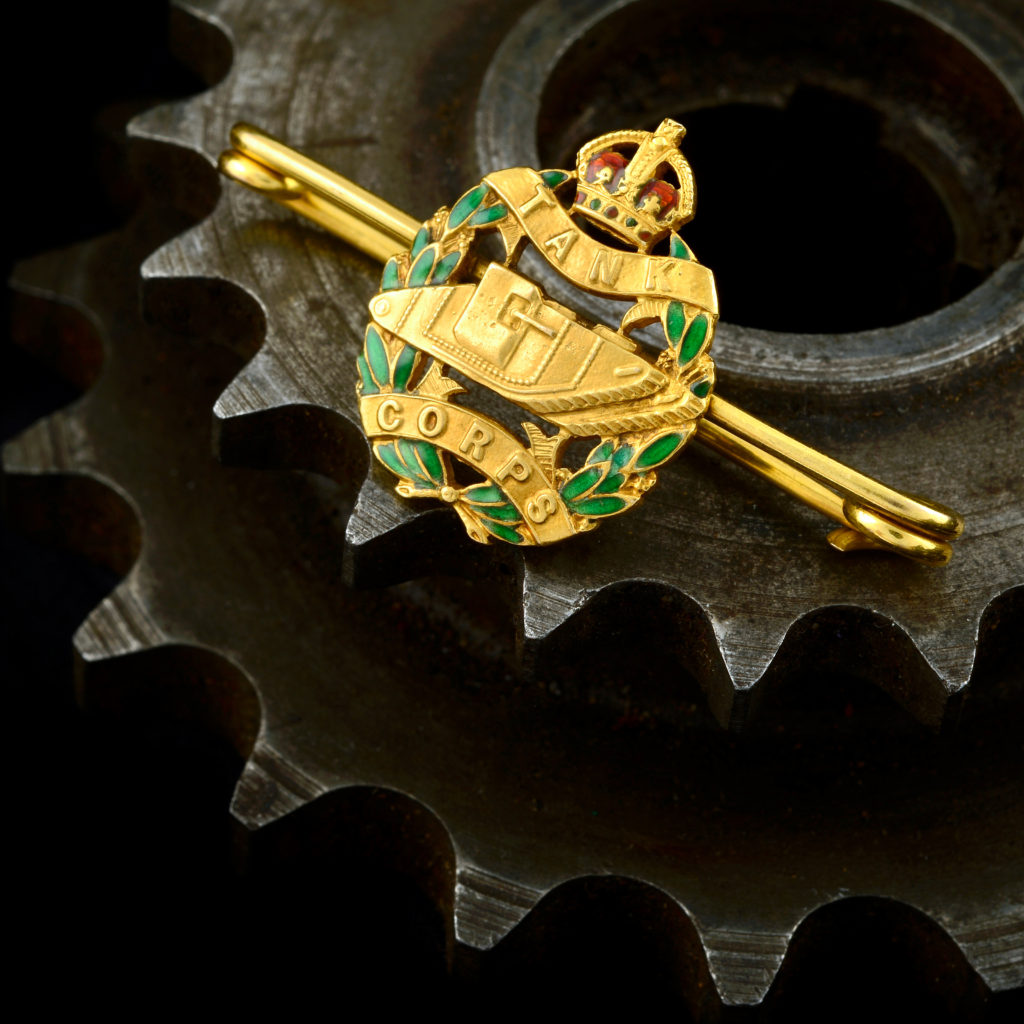 It was around this time the Royal Tank Corps – now known as the Royal Tank Regiment – were formed. The Royal Tank Corps are the oldest tank regiment in the world.
The Corps utilised tanks in the Battle of the Somme in 1916. Moreover, they were also used in the Battle of Cambrai in November 1917.
By December 1918, 25 regiments were equipped with tanks to assist with military operations.
The Tank Corps Brooch and the Auction
The early 20th century 15ct gold enamel Royal Tank Corps brooch was given out to a member during the First World War.
The historic item of jewellery measures 4.1cms and is 4.6gms in weight.
It is crafted from 15ct gold and features the Mk 1 tank, with an enamelled wreath and crown.
Featuring as Lot 11 in the timed, online-only Jewellery sale, bids can be placed on the brooch until the end date on Tuesday 14th September.
We are offering free shipping on the purchase of the brooch and bidders can view the item via our website.
Valuations
Our valuations are free, with no obligation to sell with us. Our experts will value your item with an estimate, so you can find out what it could achieve at auction.
The process is simple, so you can get a valuation now:
Fill in a form online. In addition, you can book an appointment to visit our offices in Birmingham and London. Moreover you can book a virtual valuation appointment.