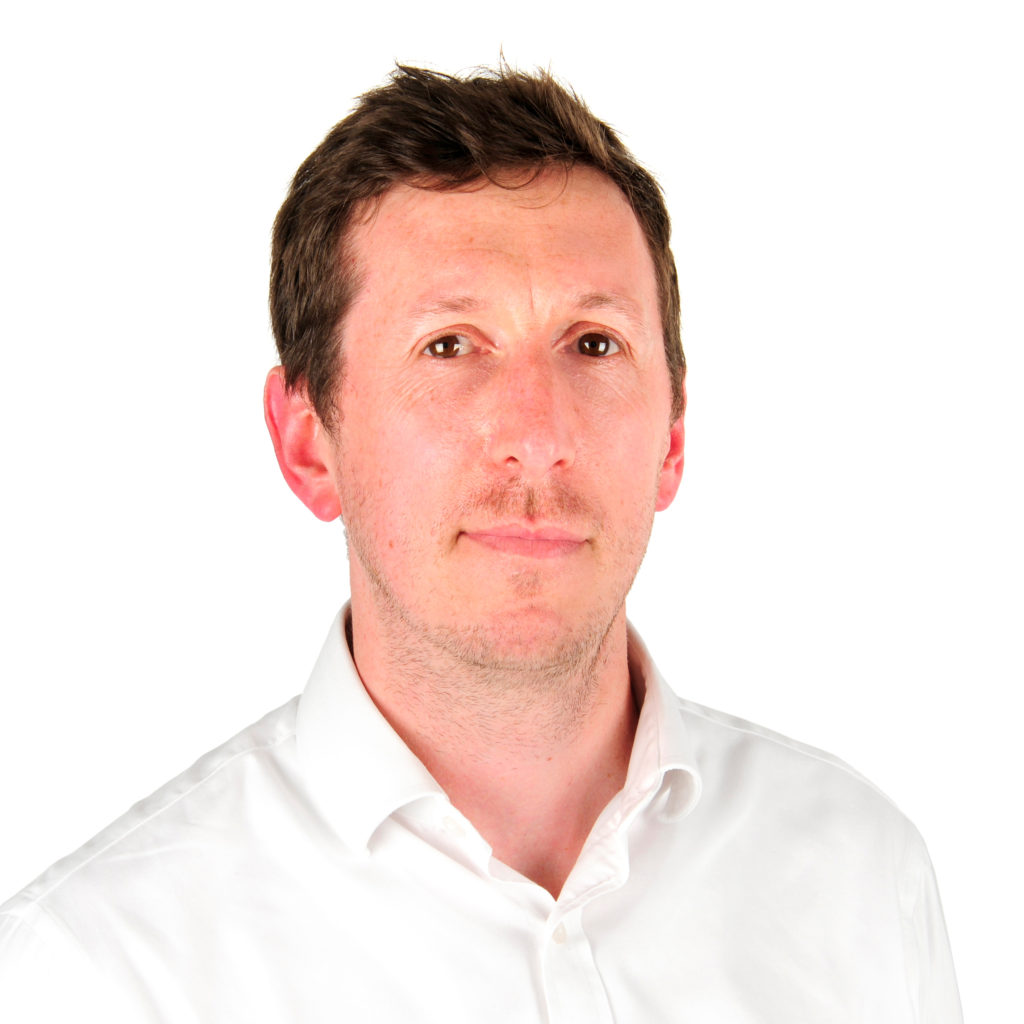 Kes Crockett | Watch Department
The Rolex Submariner is the quintessential dive watch and the one against which all others are measured. Our first Luxury Watch Sale of 2022 includes a very interesting alternative from Japan; the Seiko 62MAS, and here we will take a closer look, comparing with the iconic Swiss stalwart from the same era.
Key features of a dive watch
First and foremost, there are a number of key characteristics that a dive watch should possess. These are functional tool watches, first and foremost, and are designed to do an important and potentially dangerous job. The main features are: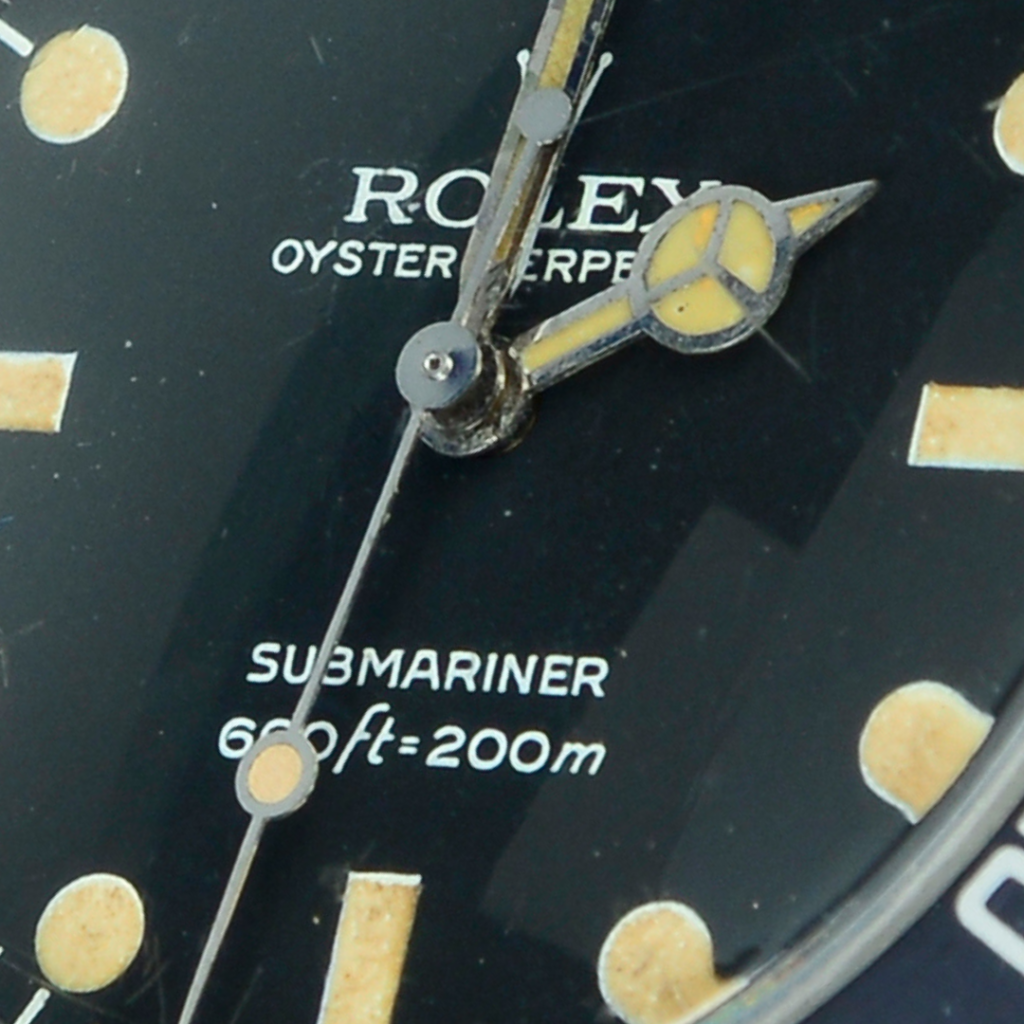 1. Water resistance
No surprises here! If you want to go underwater with your watch, it's important for your watch case to keep the inside dry, when the outside is wet. A 100M rating would be an acceptable minimum but it is not unusual to see much greater depths than this in today's offerings.
2. Rotating bezel
Keeping track of time whilst underwater is absolutely vital and can be the difference between life and death. Unless you are genetically part fish, you'll need to get back to the surface before your oxygen tank runs empty. The rotating bezel acts as a foolproof countdown timer as the minute hand approaches a predetermined bezel position.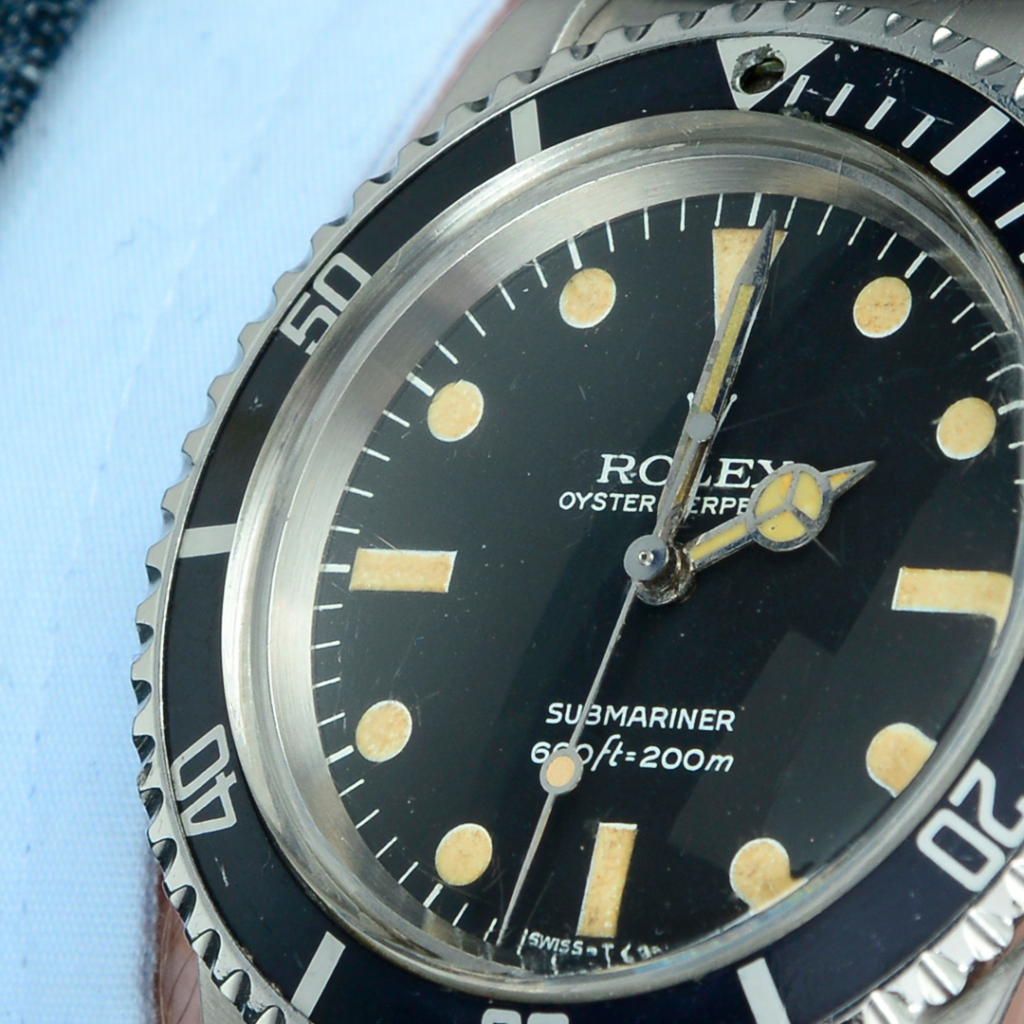 3. Highly legible
Having a robust, accurate watch with a functional dive bezel is great… but only if you can see it. For this reason, dive watches invariably have strong luminous paint used on the dial markers and hands, and rarely have unnecessary sub-dials or additional features. A date window at most. Black dials provide the best contrast under such conditions and are by far the most common in this market segment.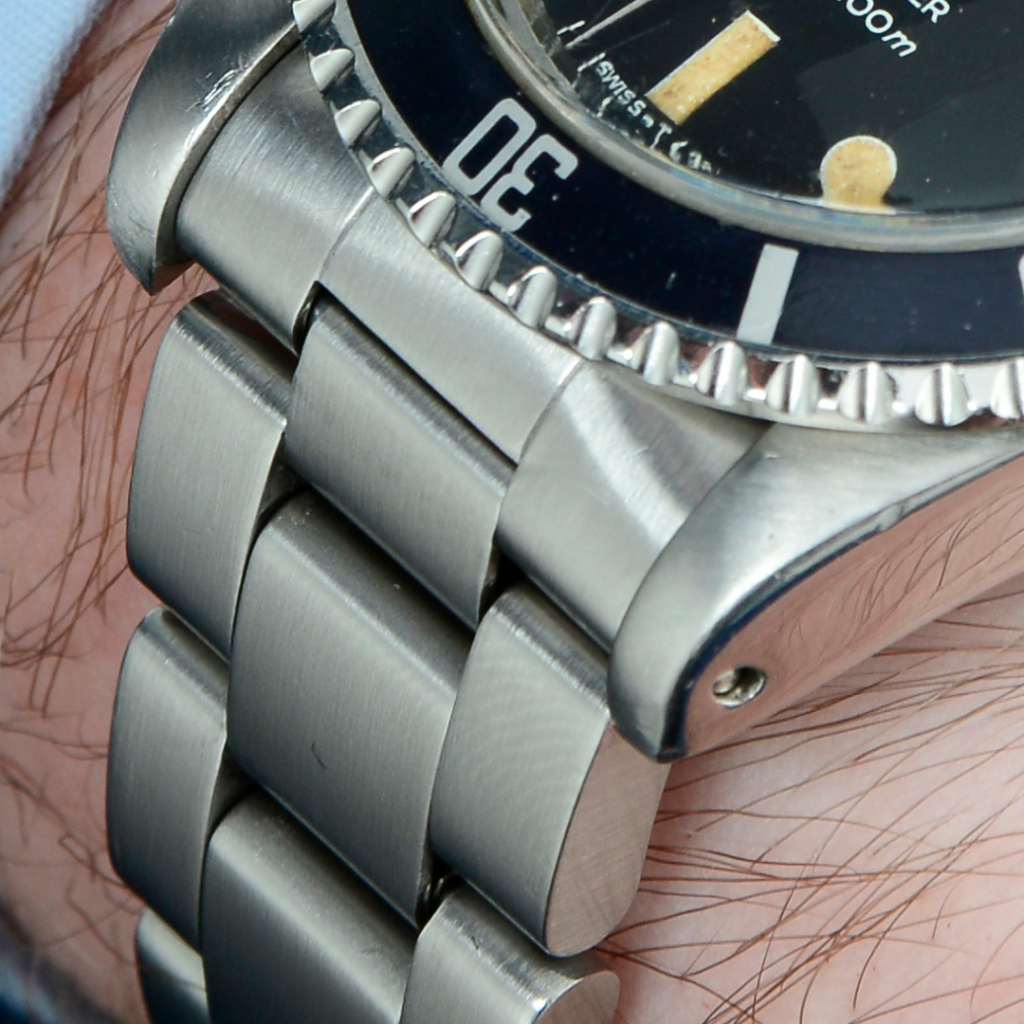 4. Reliable strap
It's very bad news to have your watch fall off whilst diving. Firstly, if you lose track of your elapsed dive time, you could very well be starved of oxygen and die. Secondly, and perhaps more annoyingly, your insurer may get a little squirmy, which unless you've kept your policy up to date, could see a very rare Milsub return £200 to your heirs rather than the £200,000 it might now be worth.
You could of course play it extra safe and wear two watches, but that is very much a horological fashion faux pas. Just check your strap is in good shape instead!
Similar but different
The below side-by-sides and accompanying table show some of the shared features of these two watches, and also the aspects that differ. Whilst neither is necessarily better than the other, it is interesting to see how competing manufacturers choose to go about the same job.
The Crown…
The 62MAS (left) has a non-screw-down crown, without protective crown guards. Water-resistance is achieved via an engraved screw-down case back. This example has the correct crown complete with Seiko text. The Rolex 5513 (Right) sports a plain crew down case back, protective crown guards clearly visible, adding an extra element of robustness and impact protection.
The Dial and Strap…
Whilst the dial and hands of both watches are highly legible, the Seiko may edge it with its oversized hour markers. Both watches utilising a bi-directional bezel, but differ in their choice of strap. Rolex goes with its ubiquitous Oyster bracelet and Seiko with a material band. Originally a 'Tropic' strap but supplied in our January auction with blue Nylon NATO.
| | | |
| --- | --- | --- |
| | Seiko | Submariner |
| Year of release | 1965 | 1962 |
| Reference | 62MAS | 5513 |
| | | |
| Case diameter | 37mm | 40mm |
| Case thickness | 13.5mm | 15mm |
| Crown guards | No | Yes |
| Bezel | Bi-directional | Bi-directional |
| Case back | Screw down | Screw down |
| Crown | Non screw down at 3 | Screw down at 3 |
| Water resistance | 150M | 200M |
| | | |
| Date/no date | Date | No date |
| Dial furniture | Oversized applied markers, chrome borders | Painted indices, no surrounds |
| Hands | Luminous straight hands, seconds hand with luminous rectangular tip | Luminous Mercedes hour hand, straight minute hand, seconds hand with round luminous pip |
| | | |
| Bracelet/strap | Tropic strap | Oyster style bracelet |
| | | |
| Movement | Calibre 6217, non-hacking, automatic only with no manual wind function. 18000bph. Quick date set | Calibre 1530, non-hacking, automatic and manual wind. 18000bph. |
Comparison of the features of the Seiko 62mas and Rolex 5513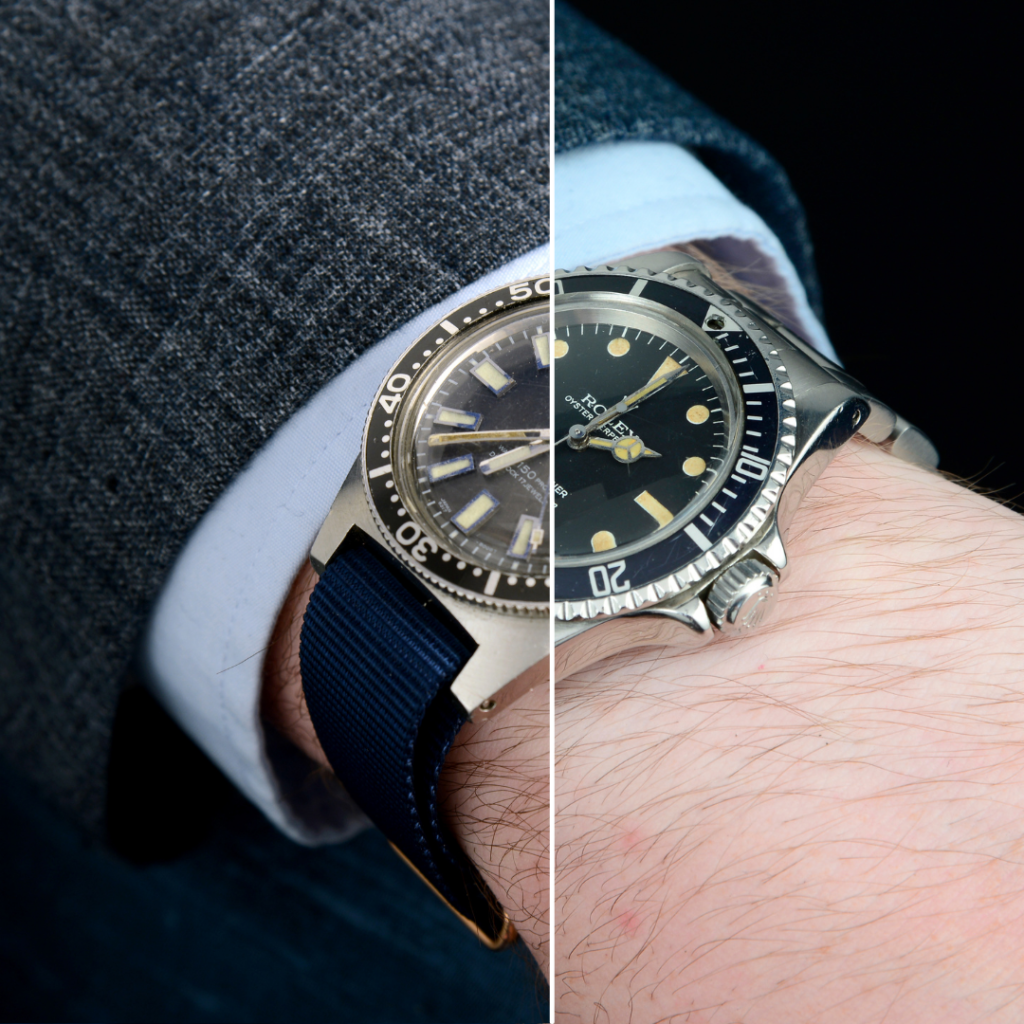 To sum it up…
Dive watches occupy a very popular segment of the market and there is an awful lot of choice to be had. Rolex remain the 'go to' brand but for enthusiasts seeking something a little off the beaten track, Seiko are an excellent option. With an estimate of £2200-3000 this rare and highly collectible 62MAS is a great alternative to the more common and more expensive Rolex submariner. Further details on lot 180 can be found here.
The Auction
The auction will take place on Monday 17th January and starts at 10:00am. You can view the full auction by clicking here.
Viewing Times (Photo identification is required)
London
11th January 2022 12pm-7pm
12th January 2022 9.30am-1.30pm
Birmingham
14th January 2022 10am-4pm
17th January 2022 8.30am-10am
Virtual viewings available by request.
Valuations
Our valuations are free, with no obligation to sell with us. Our experts will value your item with an estimate, so you can find out what it could achieve at auction.
The process is simple, so you can get a valuation now:
Fill in a form online. In addition, you can book an appointment to visit our offices in Birmingham and London. Moreover, you can book a virtual valuation appointment.