Magician P.T. Selbit originated one of the most recognisable magic tricks in the world- Sawing Through A Woman. At the time, commentators called the illusion a bloodthirsty and hair-raising spectacle. You can understand why!
Percy Thomas Tibbles aka P.T. Selbit
The man who came to be known as P.T. Selbit was born Percy Thomas Tibbles in Hampstead, London in 1881. As a young man, he became an apprentice to a silversmith which lead to his interest in magic. While working as an apprentice, he met magician Charles Morritt who had leased space at the silversmith's shop. Tibbles learnt card tricks and illusions from Morritt's collection, often studying them while the older man was away.
In the early 1900s, Tibbles started to write and perform under a pseudonym derived from his own name. He reversed the order of the letters in his surname and removed one "b" to become P.T. Selbit.
Over the next 20 years, he performed séances and illusions across Great Britain gaining in popularity.
History Of Selbit's Most Famous Illusion
The most famous illusion act associated with the magician is Sawing A Woman In Half. The magic community largely credits him as the first person to perform this illusion in public. However, there was some controversy with American magician Horace Goldin who trademarked a similar trick shortly after Selbit debuted his trick.
Selbit premiered his new illusion at the Finsbury Park Empire theatre in London on 17 January 1921 amid much publicity and scandal, which he courted. One ruse he thought up to promote this new venture was to publically dispose of fake blood in the theatre's gutter in between shows. He also hired actors posing as nurses to take up positions in the theatre's lobby and ambulances to drive around London advertising the show.
Rumour has it that he offered renowned suffragette Sylvia Pankhurst money to appear in his show. We can not find any proof that she accepted his offer.
How Does Selbit's Trick Work?
Selbit was clever in his conception of this trick. He involved the audience which made it even more believable. So how does the magician perform this trick? We won't reveal his secrets, but you can watch the brilliant Penn and Teller show you how it is done on YouTube.
The magician asks one or more of these audience volunteers to help tie ropes around the assistant's wrists, ankles and neck. After the assistant has lain down in the box, the magician threads the ropes around their body through holes and asks the volunteers to hold them. The magician turns the assistant in their box to lie horizontally and places the box on trestles. They then slide plates through the box and ostensibly through the assistant.
Next, the magician saws right through the centre of the box, dividing it into two. They then pull the sections slightly apart to show that the assistant is in two pieces. This gives the audience the impression that the saw blade must have passed through the assistant's midriff. The big reveal comes when the assistant gets out of the box and is completely unharmed.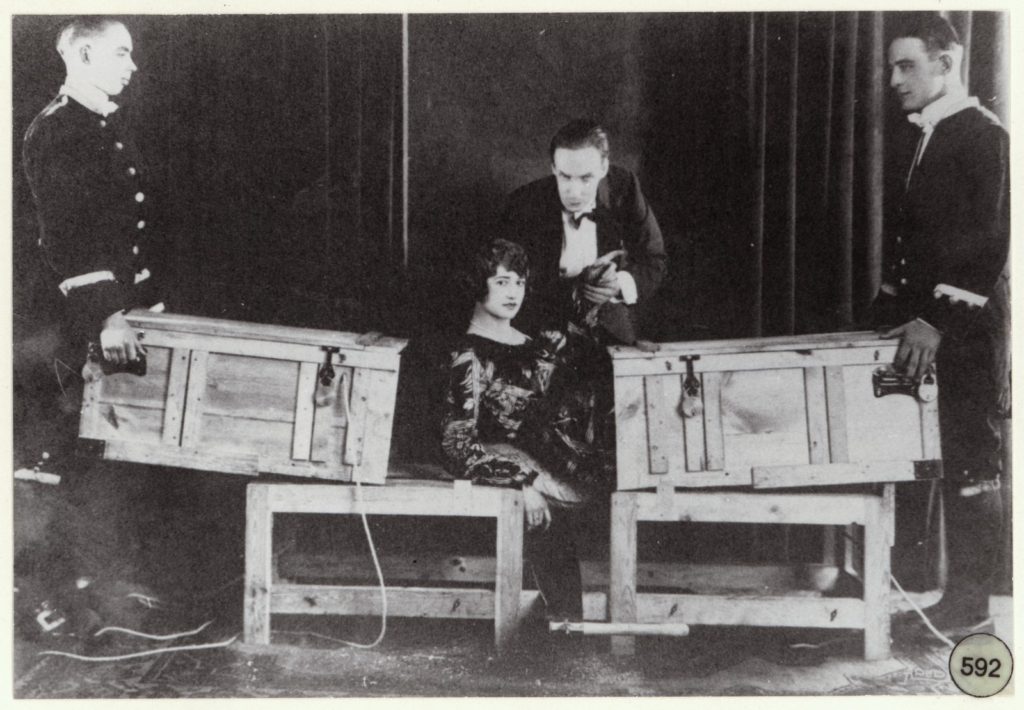 The Selbit Saw Souvenir Charm
The charm that we will offer for sale in our Jewellery auction has amazing provenance. A woman called Gladys was given the charm in 1921 for taking part in the illusion. Her granddaughter tells the story:
This gold saw was given to my grandmother by the Magician P.T. Selbit for "assisting" in his sawing through a woman in half act at his show at the Finsbury Park Empire in 1921. It has been kept by my family ever since.

Members of the audience were invited on stage to help with the act and my grandmother took part.
We can assume that Gladys was one of the people holding the ropes which must have been very exciting.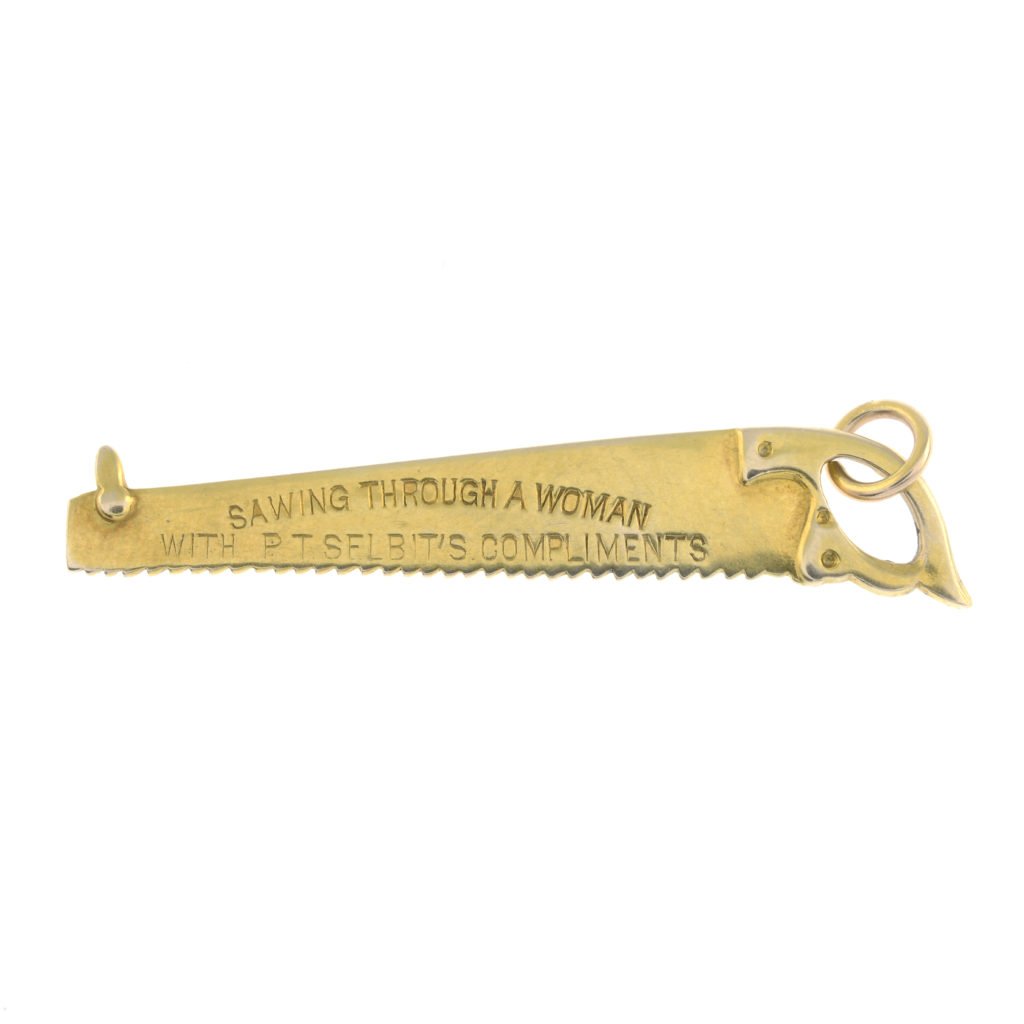 The gold charm is a saw with the engraving on it reading SAWING THROUGH A WOMAN WITH P.T. SELBIT'S COMPLIMENTS.
It is only a small charm, weighing 1.5g. But, it is a lovely piece of history. A wonderful souvenir of a pioneering magic act that has become iconic.
We have given the souvenir an auction estimate of £30 – £50. This charming accessory will be sold in day 2 of the Jewellery auction on August 10th.
The Auction
Jewellery | Day Two
Wednesday 10th August 2022 – Ends from 9 am
Viewing Times in Birmingham
Monday 8th August 10:00 – 16:00
Virtual viewings are available by request.
Valuations
If you are looking to find out how much your items could be worth, why not speak to our specialists? Our valuations are free, with no obligation to sell with us. Our experts will value your item with an estimate, so you can find out what it could achieve at auction.
The process is simple, so you can get a valuation now:
Fill in a form online. In addition, you can book an appointment to visit our offices in Birmingham and London. Moreover, you can book a virtual valuation appointment.