Kes Crockett | Watch Department
Introduction
One of the great things about this strange Horological world I live in is meeting the many and varied military watch enthusiasts that reside here too. Let's be honest, nobody needs a watch anymore. That doesn't stop people wanting one though, and as our recent auction results show, demand has never been higher.
Pre sale viewing days are a highlight because we get an opportunity to chat with our clients and find out what makes them tick (sorry). They're all different. A few will be professional dealers looking for stock. Others will be looking for their first luxury watch, maybe marking a special occasion. There will inevitably be a gentleman with his eye on a stainless steel sports Rolex, who has put six months ground work into convincing his wife that it would be an excellent "investment" for them. And in amongst all of these characters, now and again, you will find what I call a "Focussed Phil". Quietly minding his own business, with a loupe, looking at a specific genre of watches. Whether that be Victorian pocket watches or 1950s Omegas, this customer will likely know more than anybody in the room about his chosen niche.
Military Issue watches are one such subcategory, and our upcoming Luxury Watch Sale on August 16th features an impressive selection. Before going through a few of the examples we have available, we will first take a brief look at the history of these watches and the characteristics that make them so appealing.
Pre-WWI
The first Military watches would have been seen in World War I, but unlike Military Issue watches, they would primarily have been supplied by the soldiers themselves. Up until this point, pocket watches would have been used by gentleman, with wrist watches viewed as fragile and delicate in comparison, primarily worn by ladies in the upper classes. However, the grim reality of war exposed a key weakness in the pocket watch; it was too fiddly and distracting to operate. What was needed was a wrist watch which would give you the required information at a split second glance. Some soldiers began to strap their pocket watches to their wrist and from there, it was a natural progression to the trench watch which saw the use of small pocket watches with wire lugs soldered onto them and a strap fitted.
It would be hard to argue that these first military watches were the original 'Tool Watch', and their design was centred around their functionality.
A number of key features began to emerge:
-Luminous paint on the dial and hands for nighttime visibility.
-Water/dust resistant cases.
-Glass protectors or "unbreakable glass".
With legibility being of such high importance it was found that white numerals on a black background were superior to the reverse configuration and towards the end of the war this became the norm.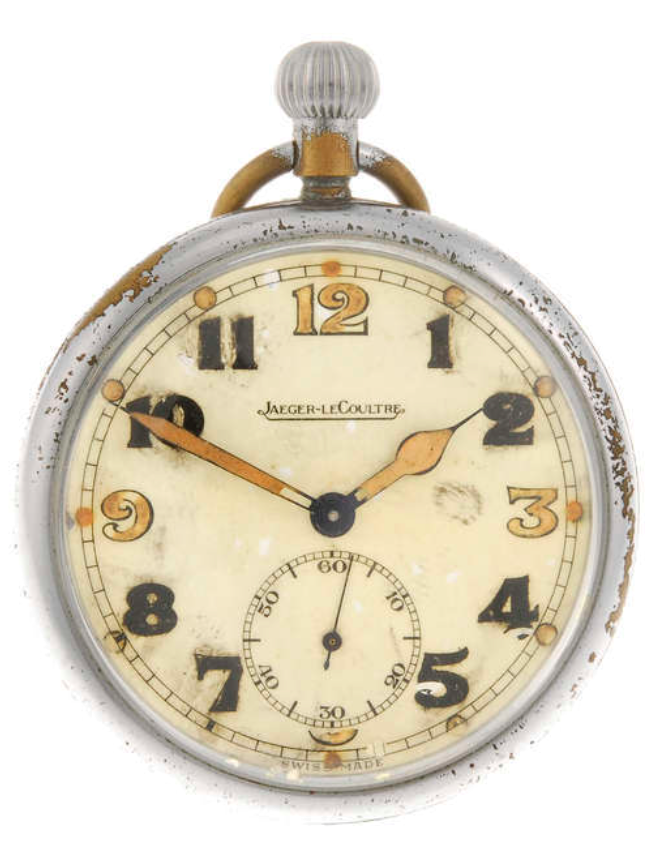 Second World War
As nice as it would be to say that this is the end of the Military watch story, human nature seems to ensure we find ourself back in conflict now and again. As we know, 1939 saw the start of World War II. At this point in time the wrist watch had become a much more common sight on a man's wrist. However, the British Military were not quite ready to fully adopt it for their personnel. It would seem that the reason for this was in their superiority in reliability and accuracy. There was also an understandable reluctance to use more modern alternatives with an as yet unproven track record.
We have sold many of these WW2 pocket watches over the years, often by companies such as Jaeger LeCoultre. The Military provenance of these timepieces is confirmed by the case back stamping of G.S.T.P. This stands for General Service Trade Pat-tern, and the British broad arrow signifies they were government property.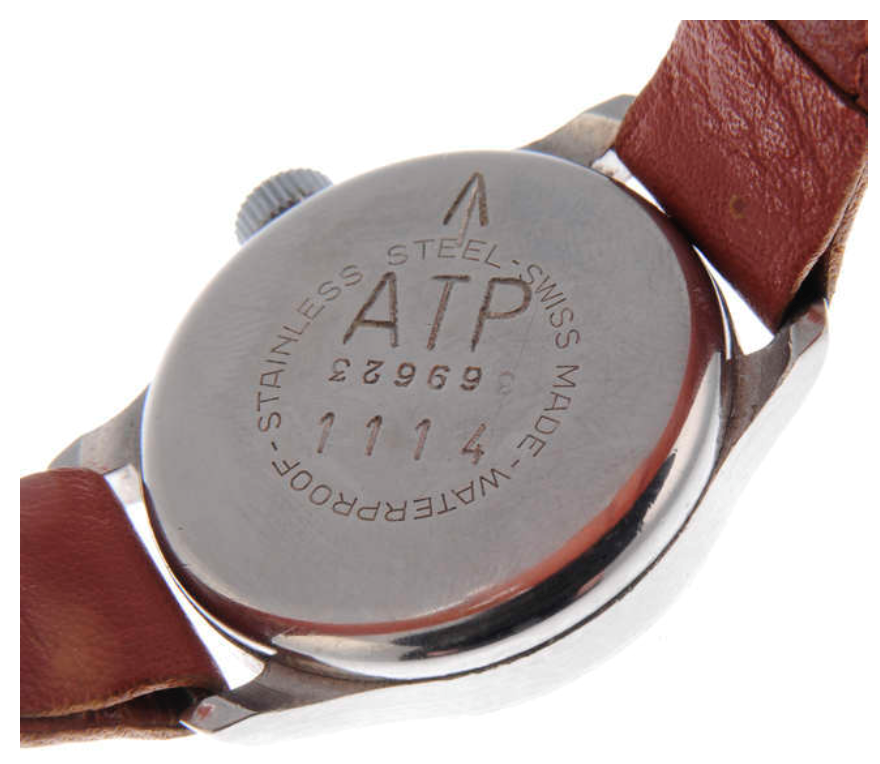 British Military wrist watches were issued after a period of time. Now with the case back stamped A.T.P. meaning Army Trade Pattern, and again with the British broad arrow. Some of these watches were made with stainless steel cases but more often than not they were chrome plated brass. They were were almost identical to versions available to the general public. They did have to meet certain standards which included nighttime visibility so the luminous paint remained, and the movements were generally manual wind Swiss movements. (pictured left, an example of a Rotary A.T.P. stamped wrist watch auctioned by Fellows in 2019).
RAF watches from this period were technically superior to those destined for British Army use and that was due to the heightened importance of accuracy. If for example there was an instrument failure it would be possible for airmen to determine their remaining flight time based on current fuel level. A case back stamped '6B' would indicate that a watch was for RAF use but other designations could also indicate a life in the air rather than on land. For example this Omega bracelet watch (pictured below and available in our August 16th Luxury watch sale) which has markings that read HS 8, which confirms use in the Royal Navy's Fleet Air Arm. HS meaning Hydrographic Survey and 8 meaning wrist watch.
Towards the end of the war, a group of more well known Military Issue watches were put into use. The so called "Dirty Dozen". These watches were stamped with the letters W.W.W. on the case back which stood for Watch, Wrist-let, Waterproof. The movements were again Swiss and of a higher quality than their predecessors. As the name suggests, there were twelve manufacturers, and whilst being broadly the same, each had its own idiosyncrasies. There was little room for too much individuality as the MoD had stipulated a number of criteria which needed to be met.
These were:
-Good sized water resistant crown.
-15 jewel 13 ligne movement that could be regulated to chronometer spec.
-Shatterproof perspex glass-shock resistant case.
-Luminous hour markers and hands.
-Black dial with Arabic numerals and subsidiary seconds dial to six.
Fortunately we have seven members of the Dirty Dozen available in our upcoming auction. These are pictured below and further details can be found here.
Following the end of the war in 1945 the need for such high volumes of military watches was reduced but they still remained an essential tool for a number of armed forces personnel.
Post-war period
The post war period up until around 1980 saw a number of manufactures continue to produce mechanical timepieces. These included Smiths, who supplied the 'W10', which is the only fully domestically made Military Issue wrist watch. Hamilton were another notable company who's design incorporated a monocoque case which allowed for improved water and dust resistance. Note the circled letter 'T' on the dial to indicate the use of tritium for the luminous markers and hands, replacing the much more hazardous radium seen previously. The example pictured below is another form our upcoming Luxury Watch Sale and provides an affordable opportunity to enter the market with an estimate of £450-650.
CWC, perhaps one of the most famous Military Issue watch manufacturers came into existence after Hamilton chose not to continue with MoD contracts which it felt they were not economically viable in the environment brought about by the 'quartz crisis'.
MilSub
At the other end of the affordability spectrum we have what is considered by many to be the Holy Grail of Military Issue wrist watches, the Rolex 'MilSub'. In August 2020, Fellows achieved an auction house record with a superb example in almost completely original condition. Details of which can be found here.
With only around 1200 issued and approximately 200 so far resurfacing, the MilSub represents an extremely rare Rolex. Also one that seldom reaches the open market. Coming in three references; 5513, 5517 and double stamped 5513/5517, the MilSub differed from civilian Submariners in a number of ways. First was the use of fixed bars between the lugs. This necessitated a Nylon 'NATO' style strap rather than the conventional steel bracelet. The hands were not the traditional 'Mercedes' design but were instead sword shaped. The bezel featured a full sixty minutes of incremental markers rather than the standard fifteen. The circled 'T' to the dial was another Military specific addition.
Understandably, given the nature of the job, many 'MilSubs' have been subject to maintenance and servicing over the years. This is in order to remain the functional tool watches they were designed as. This intervention, often by Rolex themselves, opens up the possibility for enthusiasts to enter the market at a slightly more achievable price point, as it is originality which commands the highest premiums. Such an example of a well maintained 'Milsub' with a fascinating history can be seen here. It is available in our upcoming Luxury Watch sale this August.
Without question the 'MilSub' is the pinnacle of the Military Issue watch world but time moves on and so does technology.
Modern era
By 1980 the Swiss watch industry was in trouble. Quartz watches were now a dominating force. Sentimentality aside, they provided an objectively better solution in terms of accuracy and reliability. These are the two main requirements of a military watch. The MoD published a document called 'Defence Standard 66-4' which outlined the specification to be used for these electronic watches. CWC remained a key provider and the G10 which is the most commonly seen Military issue watch today. It was produced in large numbers, an estimated 200,000. Other makers commonly seen in more recent years include Pulsar, Seiko and Precista. These can be found in both time only and chronograph form (previously auctioned quartz Military Issue watches shown below).
And that brings us up to the today, over 100 years after the first Military watches were seen in WW1. Much like those soldiers, the recruits of 2021 will be supplying their own timepieces. G-shock and Suunto being the current most popular choice of life saver.