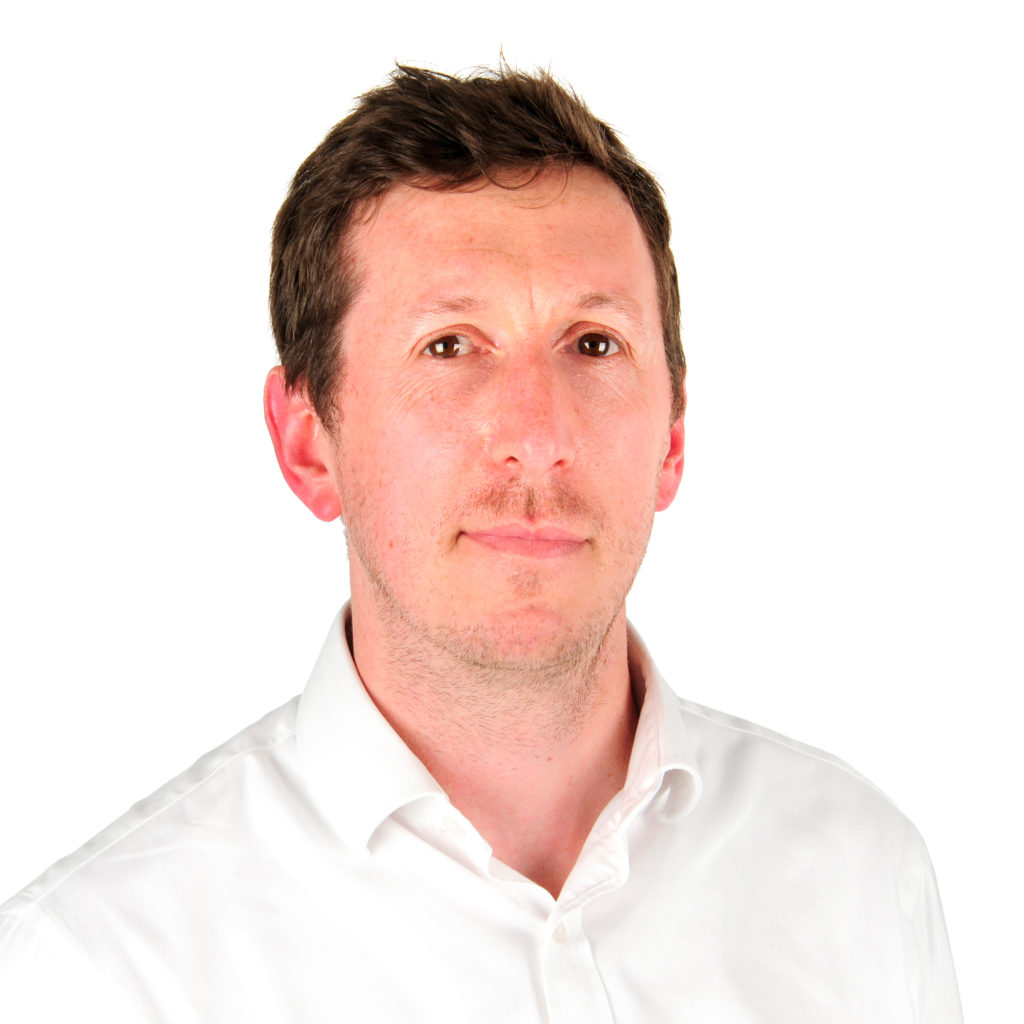 Kes Crockett | Watch Department
The watch dial is in many cases the most important element of a luxury watch. In vintage Rolex circles, the dial can account for 50% or more of the overall value of the piece. Collectors will spend countless hours studying the most minute differences between dials of the same model. They look for changes to the printed text during the production cycle; ageing of the luminous material; and subtle evolution of the brand logo itself. The list goes on. That's before we even begin to involve the hands and how they match up.
Whether a watch is a quartz or mechanical, we all know that underneath that dial is a little miniature machine making the hands go round in a circle; the movement. Some watches have an exhibition case back which allows us to see this in all its glory. The intricate detailing and finishing processes of high-end watchmaking can almost be works of art in their own right. We can sort of understand all of this.
Wind up watch… cogs spin round… hands connected to cogs… hands and dial show time.
Thankfully, the business of horology has professionals within it who seek to do ordinary things in unique and innovative ways. After all, that's what keeps it fresh and interesting. One such individual from across the channel in France back in the 19th Century was Mr Jean-Eugène Robert-Houdin.
Jean-Eugène Robert-Houdin
Although he later became a magician, Robert-Houdin was originally a watchmaker like his father. He was a proper watchmaker too. It wasn't a case of him sitting on a production line in a massive factory inserting one wheel into a movement before passing it to the next trained person. Houdin was doing highly skilled hand-crafted work on not just clocks and watches, but also automata. One such example was his incredible trapeze artist 'Antonio Diavolo'. It may seem slightly low-tech now in a world of CGI film-making, advanced AI and multi-million-pound NFT cartoon apes, but it is an incredibly impressive feat considering it was produced over 250 years ago. Check out a video of this mechanical 'acrobat' in action here.
Mystery Dial
Anyway, the same man was responsible for the 'mystery dial' we see today in clocks and watches. Mystery dials are a design which gives the impression of floating hands moving freely around the watch display. They appear unconnected to any moving parts. Given Robert-Houdin's apparent showmanship and his subsequent magic career, it is no surprise that he created such a mechanism. In its day it would have left the watch-buying public completely bamboozled. What made these floating hands even more confusing to many was that you could see straight through the watch face with no mechanism visible at all.
As with many such illusions, whether in horology or magic, the mechanics involved are actually surprisingly simple. The hands are not floating mid-air, shock horror, they are in fact attached to transparent discs. These discs have concealed toothed edges which interact with the movement much in the same way as a standard watch. In order for the mystery dial illusion to be truly effective though, the movement should also be hidden away in some sneaky fashion. For clocks, this may be achieved by housing all the moving parts within its base. For watches, an offset dial is commonly used to allow the calibre to live discreetly to one side of the time display.
Over the years, the mystery dial has been incorporated into many a watch by a host of manufacturers. We have seen a variety of them here at Fellows Auctioneers. There is however one brand more than most that are synonymous with this piece of watchmaking trickery; Cartier. Since the start of the 20th Century, the Swiss maker has produced its interpretation of Robert-Houdin's invention, firstly with clocks and later with watches.
Mystery Dial Watches At Auction
We are fortunate to offer for sale one of the most recent iterations – The Rotonde de Cartier Mystérieuse.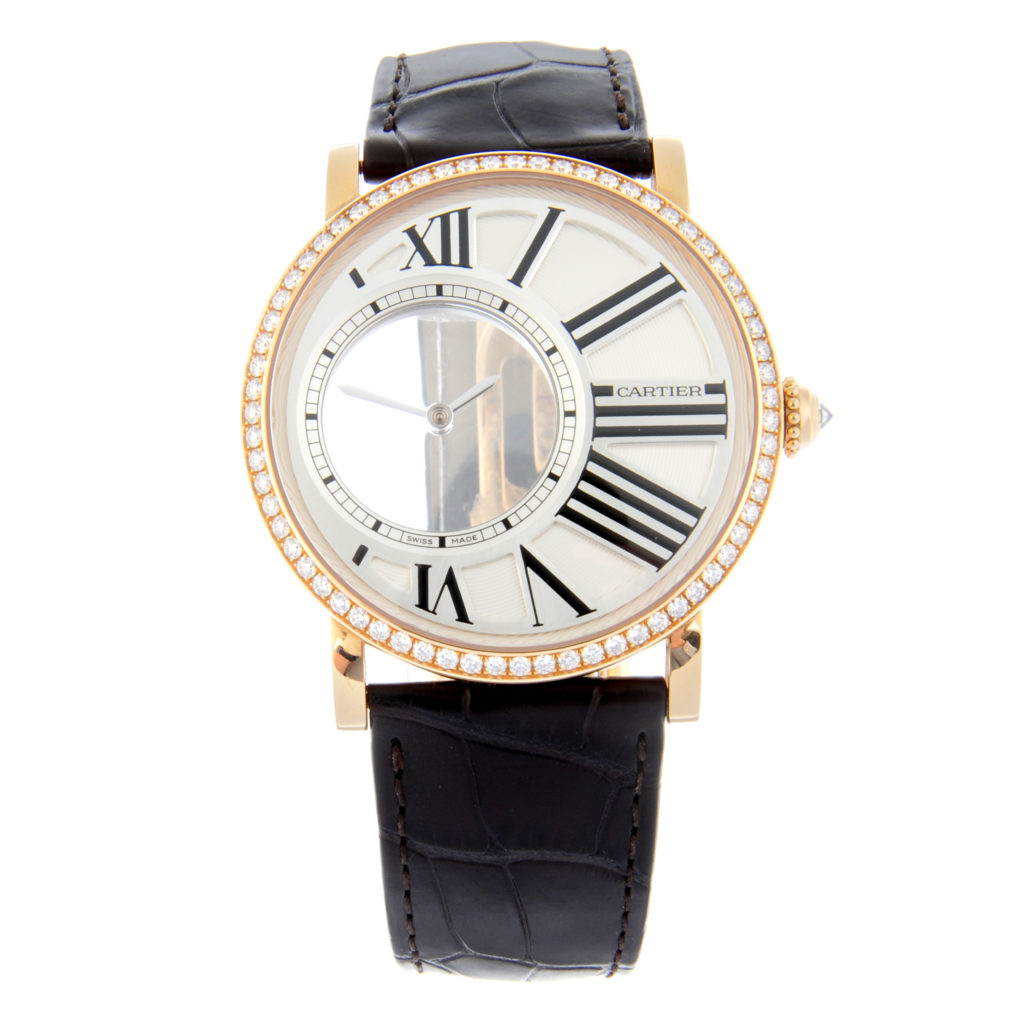 Housed in a 42mm diamond set 18ct rose gold case, the ultra-thin calibre 9981MC powers the floating hour and minute hands to the left-hand side of the dial. The movement is hidden behind Cartier's classic Roman numeral hour markers spanning twelve to six.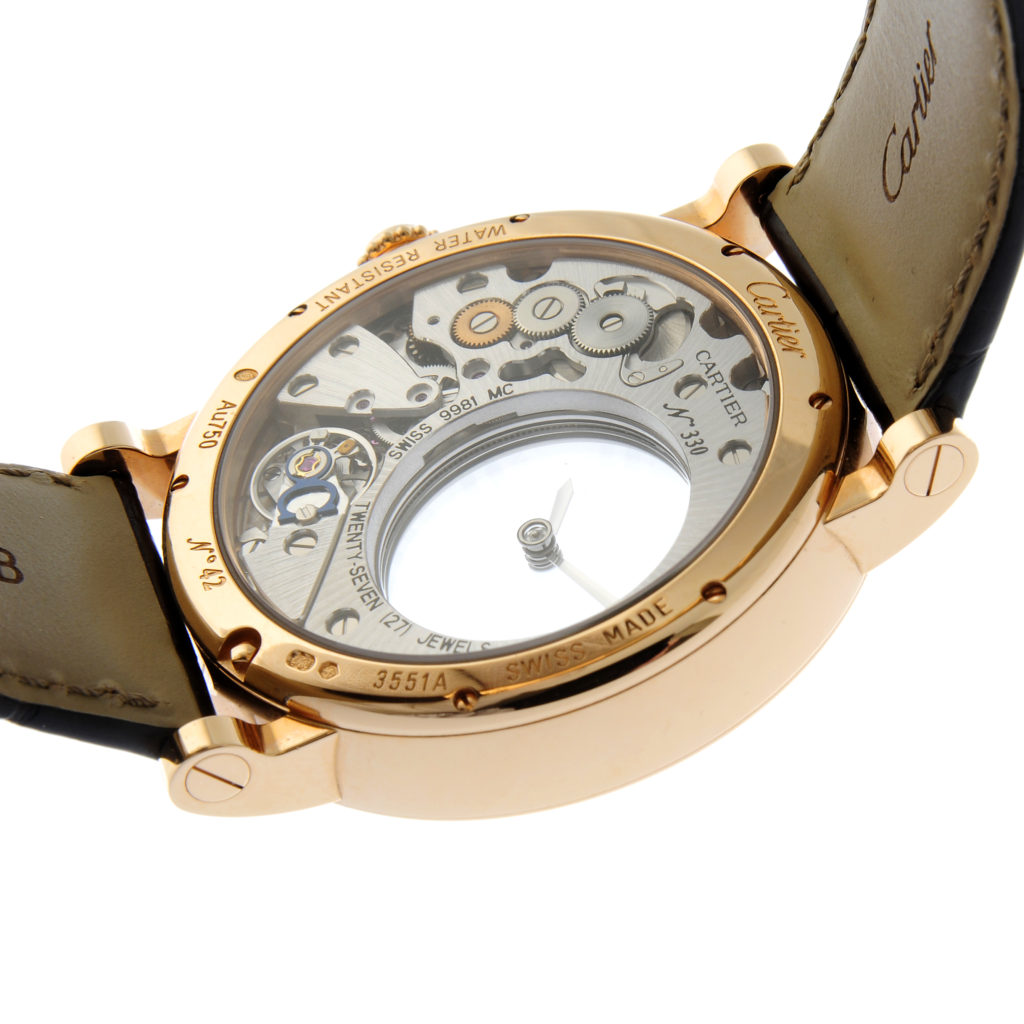 Fitted to a signed brown alligator strap with 18ct rose gold deployant clasp. The lot comes with its original box and warranty papers. This piece of horological art is entered with an estimate of £16,000-22,000.
First seen two and a half centuries ago, the mystery dial remains as captivating today as it did back then. Cartier continues to showcase this fun and intriguing complication. However, the lion's share of the credit should really be given to its inventor, Jean-Eugène Robert-Houdin.
If you've got to the end of this blog with that annoying feeling that the name sounds familiar but you're not sure why you're about to find out. It's because the world's most famous magician named himself after him. No, not Paul Daniels, the other one. Harry Houdini!
The Auction
The Luxury Watch Sale will take place on Monday 8th August at 10 am.
London Viewing Days
Tuesday 2nd August 12:00 – 19:00
Wednesday 3rd August 9:30 – 13:30
Birmingham Viewing Days
Friday 5th August 10:00 – 16:00
Monday 8th August 8:30 – 10:00
Virtual viewings are available by request.
Valuations
If you are looking to find out how much your watch could be worth, why not speak to our specialists? Our valuations are free, with no obligation to sell with us. With a valuation, our experts will provide you with an estimate, so you can find out what it could achieve at auction.
The process is simple, so you can get a valuation now:
Fill in a form online, or you can book an appointment to visit our offices in Birmingham and London. We can also offer you a virtual valuation appointment.