'Spodumene' (pronounced spoj-uh-meen) is a word not commonly discussed in the world of jewellery, and yet describes a mineral with a history deeply intertwined with all things rich and glamourous.
In the commercial sense, spodumene is an important source of lithium – with the chemical formula LiAlSi2O6. Its crystals form in the monoclinic crystal system, which is a fancy way of describing which one of 7 basic repeated building blocks can be found within the crystal if you could zoom in on it at an atomic level. It is also a part of the wider group of pyroxene minerals. These are a group of minerals sharing similar chemical and structural properties.
So how does this relate to the jewellery world? Although it is colourless in its purest state, if a spodumene crystal forms containing traces of manganese, it's given an enchanting purple-pink hue – allowing it to claim the significantly more famous title 'kunzite'. Likewise, traces of chromium give a spodumene crystal a green to yellowy-green hue, aka 'hiddenite'. Gems that get their colours in such manor (through inclusions of trace elements) are called 'allochromatic'. The prefex Allo- meaning 'other', and chromatic meaning relating to/producing colour.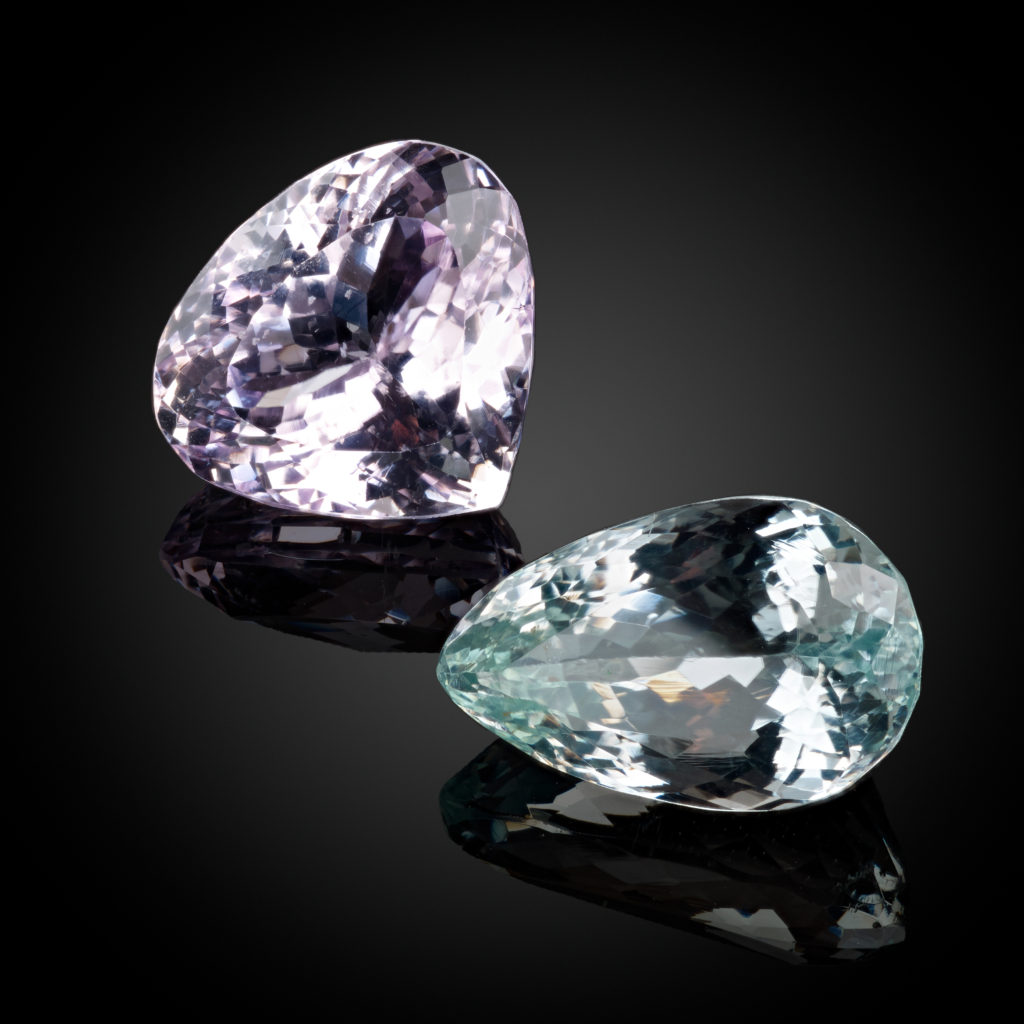 Kunzite
Kunzite is arguably one of the most famed purple-pink gemstones, boasting gorgeous colours, dazzling clarities, and show-stopping carat weights. A perfect example being the 880ct heart-shaped kunzite on display in the Smithsonian Institute.
It's capable of displaying a plethora of gemmological phenomena (optical effects), one of the most notable being its pleochroism. Pleochroism is where a crystal splits light into different colours, depending which angle of the stone it passes through. In this case, three different hues can be seen, meaning the effect can be better described as 'trichroism' (with tri- meaning three). Kunzite's trichroism is rather strong, giving rise to pink, colourless, and violet hues. Clever cutting from lapidarists allows the violet and pink hues to commonly both be visible when a cut stone is viewed face up. This gave rise to that famed purple-pink colour.
If you are the lucky owner of kunzite jewellery and wish to parade its beauty, it is also extremely important to note kunzite's ability to lose colour when exposed to direct sunlight for too long. The effects of sun-bleaching can be reversed using irradiation. However this isn't exactly the most accessible of processes, and therefore it is key to remember kunzite as an evening stone.
New gem on the block
Kunzite is relatively new to the world of gemmology. It was discovered in 1902 in San Diego and confirmed to be a new gem variety of spodumene by the world-renowned head gemmologist of Tiffany & Co, George Frederick Kunz. It was then subsequently named after him in 1903.
The purple gem then grew massively in popularity into the 1920s and 1930s, following the stones promotion by Tiffany & Co. It fit perfectly into the aesthetic of the art deco movement. As a result, the stone became known as a globally recognised beauty. Consequently, it decorated the necks of icons like Elizabeth Taylor, whose kunzite necklace sold at auction in 2011 for $400,000.
Hiddenite
Hiddenite, the green cousin of kunzite, is also capable of displaying trichroism. However, it shows green, yellowish-green, and bluish-green hues. Not only has its often emerald-green appearance led to it achieving the nickname 'lithia emerald', but the same George Kunz described the stone as having "particular brilliancy which is wanting in true emerald".
Hiddenite was discovered in North Carolina in 1879. It is named after William Earl Hidden who was instrumental in the stone's identification. Hiddenite is rarer than its purple-pink counterpart, making it extremely popular with collectors.
Spodumene at auction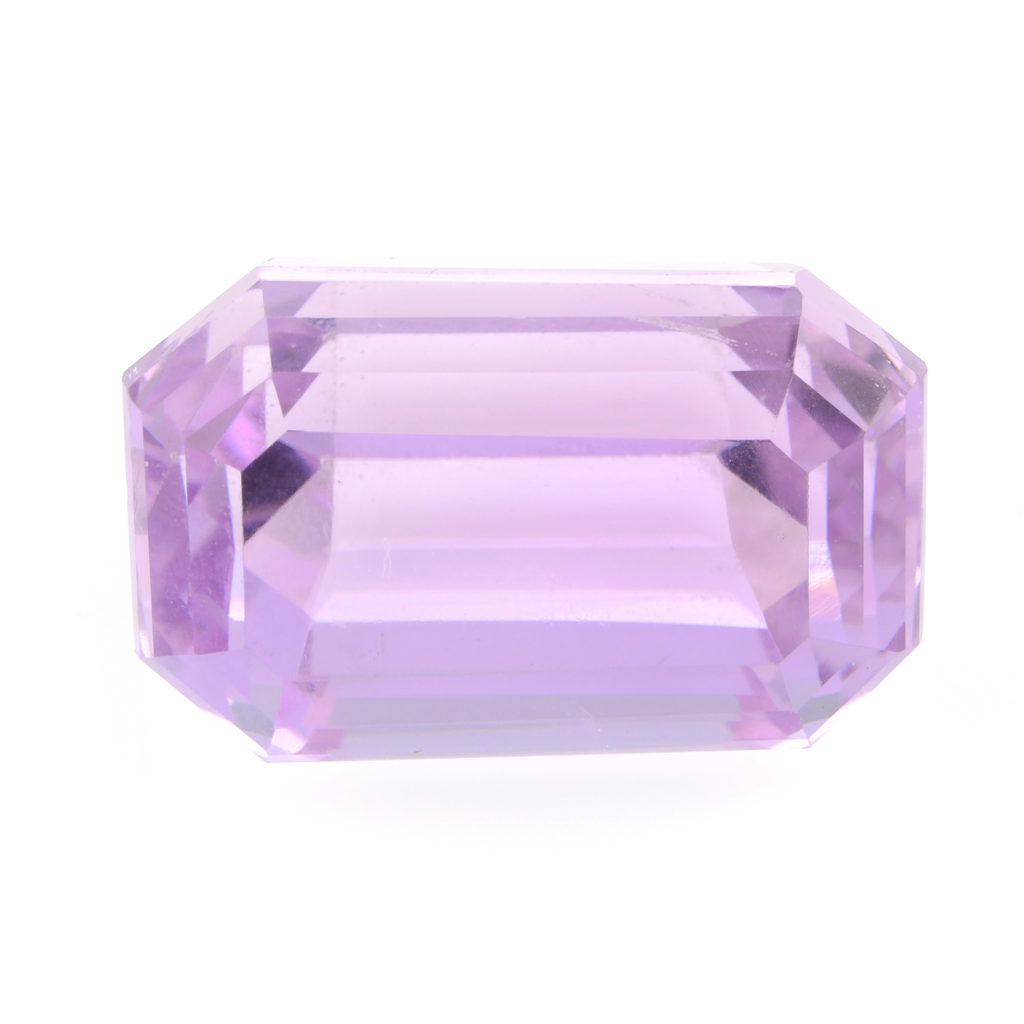 A rectangular-shape kunzite, weight 28.86cts.
Estimate £60 – £80
Three fancy-shape kunzites, total weight 89.06cts.
Estimate £50 – £80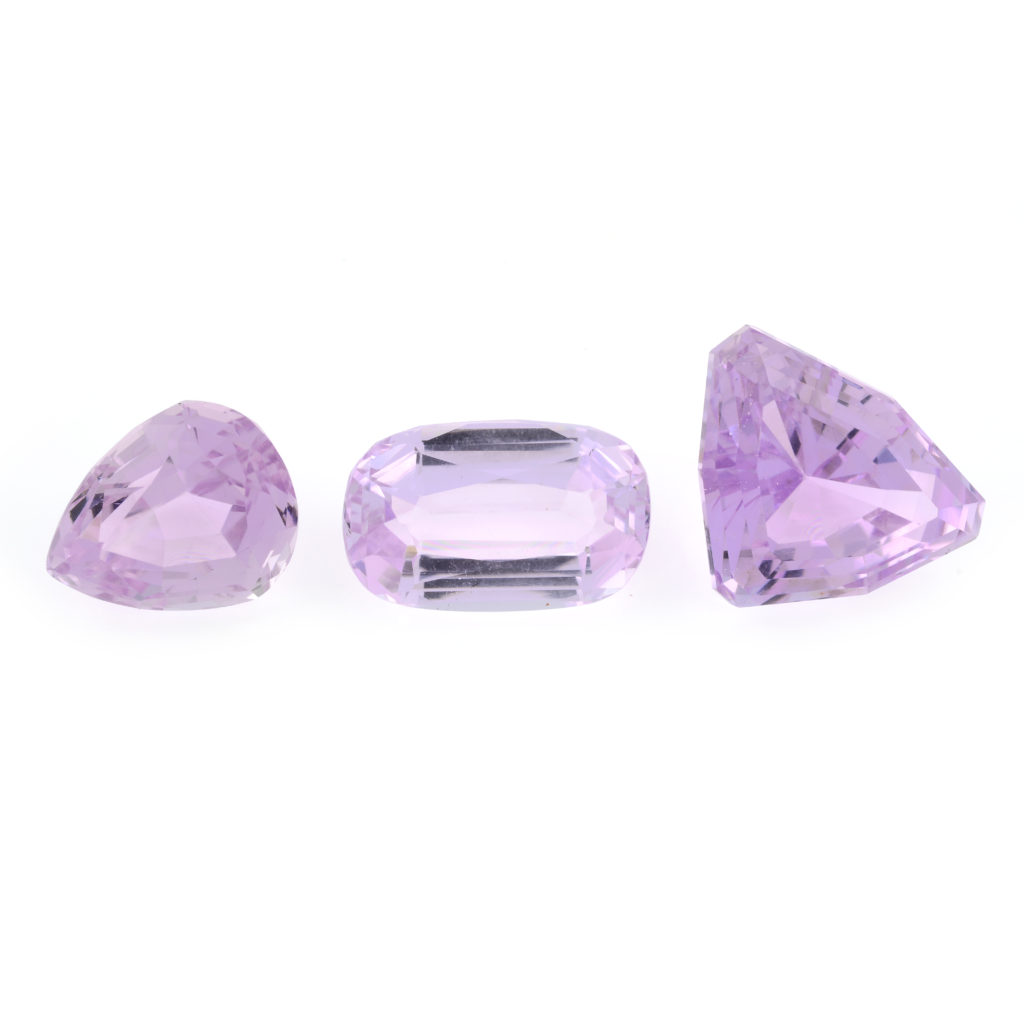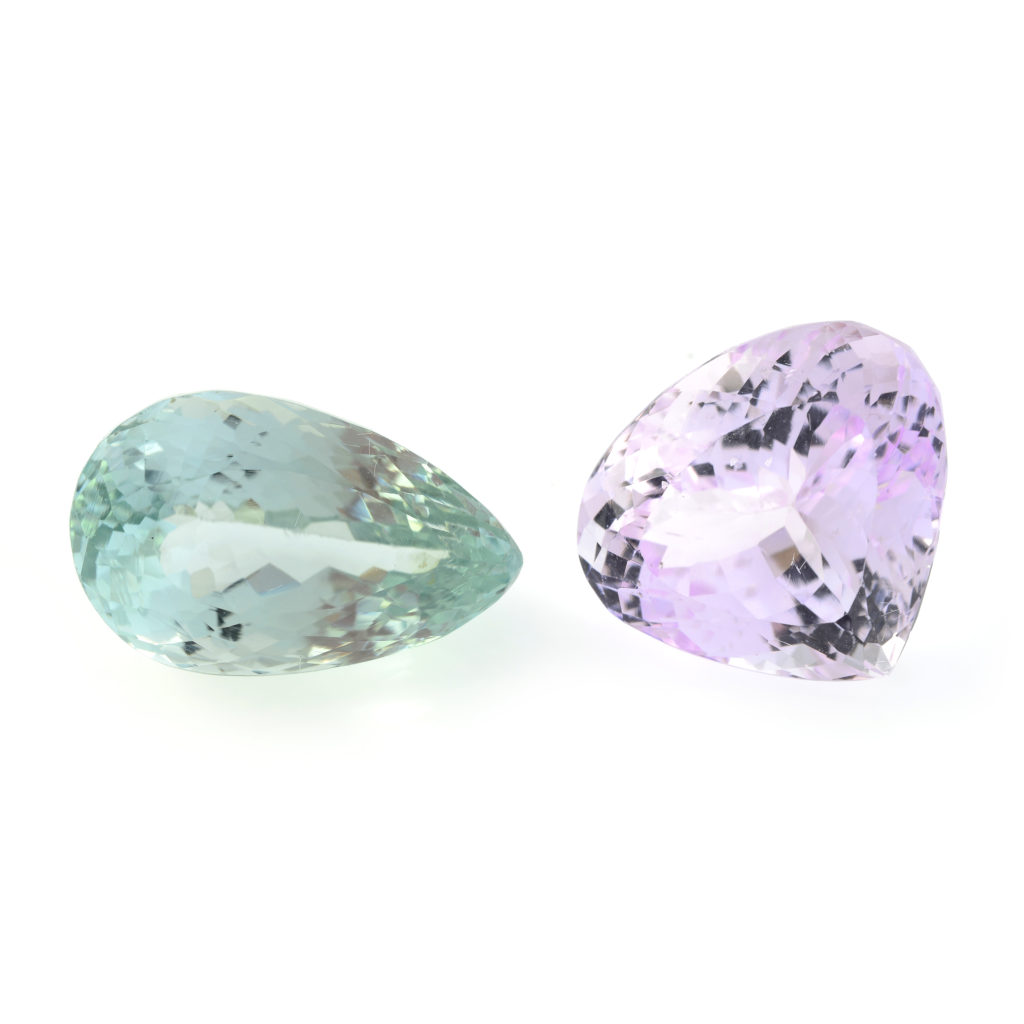 A pear-shape hiddenite and a kunzite, total weight 37.95cts.
Estimate £40 – £60
Despite not being a word commonly thrown around in the jewellery world, spodumene remains integral to the history of gemmology and jewellery, with two world-famous gem varieties that have long captured the hearts of Hollywood stars, collectors, and jewellery enthusiasts alike. Both kunzite and hiddenite are stones that pass through our jewellery, fine jewellery, and gemstone auctions, meaning our keen-eyed customers can grab a bargain and witness spodumene's rich history up close.
Auction Details
The Gemstone Sale – Wednesday 12th July 2023
Viewings
Birmingham
Tuesday 11th July 10am – 4pm
(Photo ID Required)
Valuations
Our valuations are free, with no obligation to sell with us. Our experts will value your item with an estimate, so you can therefore find out what it could achieve at auction.
The process is simple. You can fill in a form online or book an appointment to visit either of our offices in Birmingham or London. Virtual valuation appointments are also available.
Make sure you don't miss finding that special something by signing up for our emails. You'll be the first to know when catalogues become available, receive invitations to special events, and preview the hottest lots from our auctions, plus much more. You can also set up lot alerts, to tell us exactly what you are looking for. Our personal shopping service will make sure that you are the first to hear about it.
Jonathan Riches | BSc (Hons)