A couple of months ago, a family in Coventry were sorting through their late father's possessions. They came across a drawer with assorted items in it including a medal, a ceremonial dagger and a pretty bashed-up watch. The family had no idea that the watch existed until that moment, let alone its value. Little did they know that it would turn out to be a highly valuable German WWII Luftwaffe watch.
A Fellows blog saves the day
Having done a bit of investigating, the family realised the watch must be a German military piece. A quick search online bought them to a very interesting article all about Luftwaffe watches. Encouraged by what they read there, they headed to the Jewellery Quarter in Birmingham to see our watch specialists. What they discovered was truly amazing news.
The Luftwaffe watch
Our watch Cataloguer Kain Holroyd tells the story "From the initial contact with the Holyoake family this consignment has taken so many positive turns. We were firstly not aware to which of the four German B-Uhren brands this particular watch head belonged. Opening the case back to find that it was an A. Lange & Söhne was quite exciting."
The team started researching the watch. They discovered that the A. Lange & Söhne military issue pilot watch head was made circa 1942. A. Lange & Söhne only roduced 6904 Beobachtungs-uhren (B–Uhren) watches from 1940-1945. Pilots were issued a watch before each mission and returned it on completion. They weren't held as part of their uniform so few were retained after the war and passed on. For this reason, they are in scarce supply and therefore valuable.
You can find out more information on how military watches were commissioned and used in Germany in the 1940s here.
Given the history and importance of this watch, the team valued it at £7,000 – £10,000.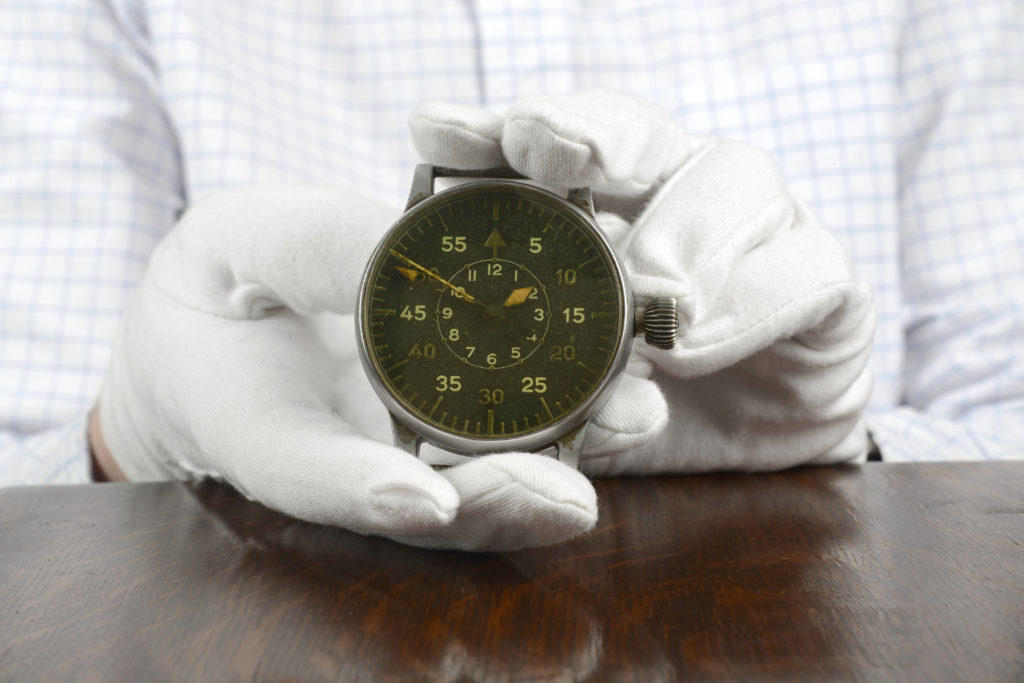 William Holyoake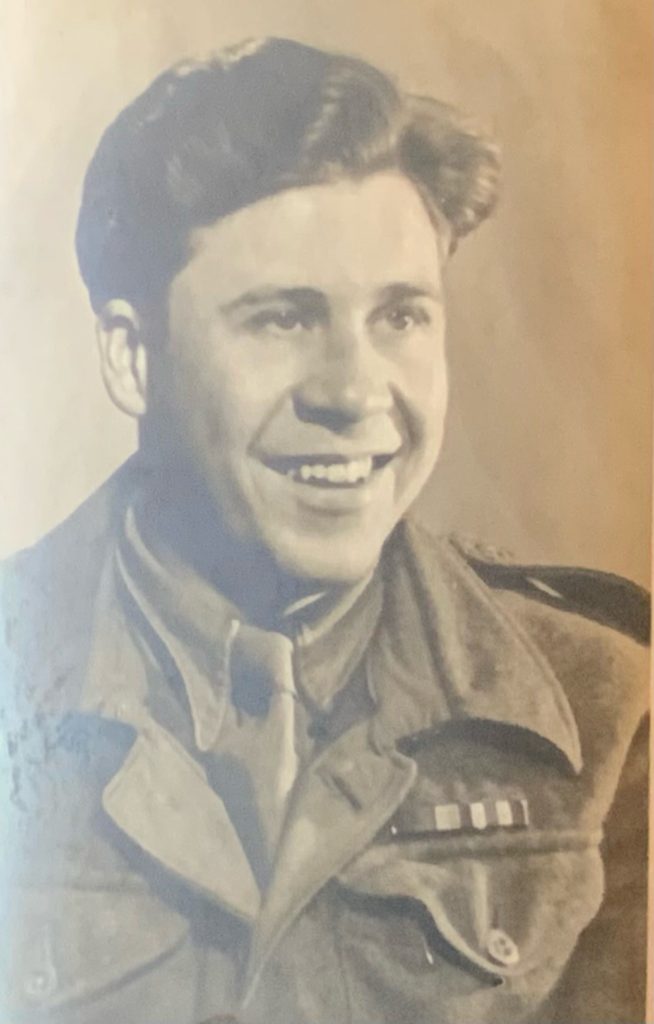 William Albert Holyoake, known to his friends and family as Bill, rarely spoke of his time overseas in WWII to his family. He never told them about the watch head that sat hidden in a drawer, among other German military keepsakes, for 75 years. It was only after he passed that his family discovered treasures locked in his desk drawer that he had put there on his return to England in 1947.
William Holyoake enlisted for military service on 30th August 1944 in The Royal Engineers and was assigned to the 15th Field Park Squadron as a sapper. It was from his time in Central Europe during and in the aftermath of WWII that he acquired various items of interest.
As a young man, Holyoake had apprenticed Alfred Herbert Ltd. It was one of the world's largest machine tool manufacturing businesses at the time. After his service in Europe during the Second World War, he returned to his hometown of Coventry to work as an engineer at The British Aerospace group (previously the companies Armstrong Whitworth and Hawker Siddeley). Holyoake worked on multiple military projects such as the Avro Vulcan bomber and Hawker Hunter jet fighter aircraft (used by the Red Arrows display team). In his later life, he volunteered as a woodworking and metalworking tutor, sharing his skills with people with visual impairments.
The Luftwaffe watch at auction
We will offer the Luftwaffe watch for sale in our Luxury Watch Sale on August 8th. The auction will begin at 10 am. Viewings are available in London and Birmingham ahead of the auction day.
London
Tuesday 2nd August 12:00 – 19:00
Wednesday 3rd August 9:30 – 13:30
Birmingham
Friday 5th August 10:00 – 16:00
Monday 8th August 8:30 – 10:00
Virtual viewings are available by request.
Valuations
If you are looking to find out how much your watch could be worth, why not speak to our specialists? Our valuations are free, with no obligation to sell with us. Our experts will provide you with an estimate, so you can find out what it could achieve at auction.
Fill in a form online, or you can book an appointment to visit our offices in Birmingham and London. We can also offer you a virtual valuation appointment.
WWII military watches
If you want to find out what the British military was wearing in WWII, we have a lot of resources to share with you.
The British Ministry of Supply for the Military requested watches which were suitable for the Army, Air Force and the Royal Navy, with manufacturers able to produce enough quantities within their capabilities. A few different manufacturers designed and delivered watches between 1944 and 1945. These watches became to be known as The Dirty Dozen. On 24th August we sold a full set of extremely rare Dirty Dozen watches for £27,000 (£34,452 including fees).
We invited watch aficionado, author and journalist Simon de Burton to share his knowledge and passion for rare military watches. In a recorded event, he explored the history of watches used in military settings from as far back as the 19th Century to the modern day. You can watch it on YouTube here.