Jane Dering
Jane Dering, was the daughter of Sir Edward Dering and Mary Harvey. The 2nd Baronet of Surrenden, Kent was one of King Charles II's commissioners to the Treasury. Her mother Mary was an esteemed composer and her family had lucrative connections to Baltic trading companies. These connections secured Jane and her sixteen siblings high society status. Indeed, Jane's sister, Elizabeth, is an ancestor to the Queen Consort, Camilla.
Portrait Miniatures
Portable in nature, portrait miniatures were designed to be held and viewed closely. Often tokens of loyalty and friendship, these artworks were less concerned with expressing power to potential allies and foes. They were instead constructed to evoke connection and strong, personal feelings. Indeed, miniatures were likely to be commissioned when a family member was expected to be absent for a significant period. Many examples of male sitters represent their final months at home, before emigrating, going to war or to business overseas. The political power of intimacy, however, must not be overlooked. Portrait miniatures first gained popularity within European royal courts as diplomatic gifts. They attest to the courtiers' understanding of personal closeness with the monarch as crucial to gaining political favour.
Portrait of Jane Dering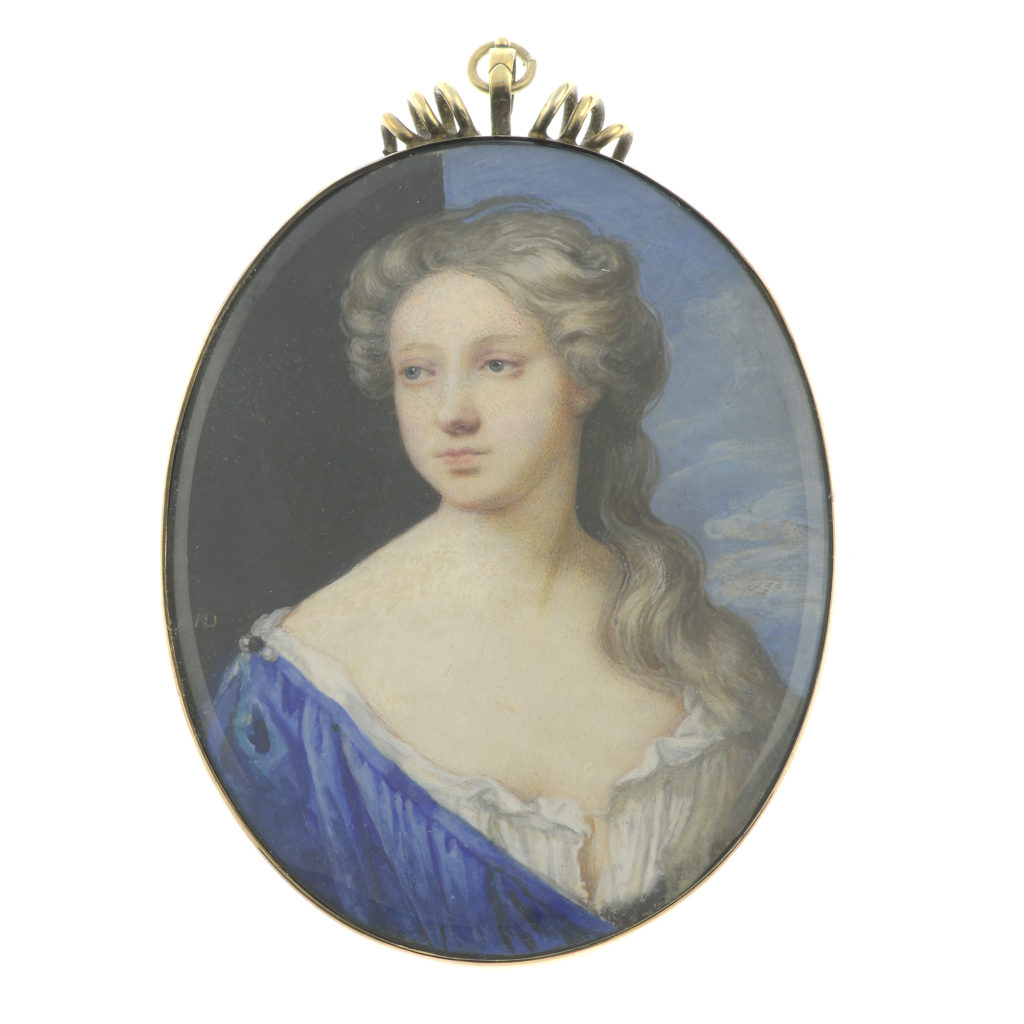 The loose chemise worn by Jane within the portrait suggests perhaps that this portrait miniature was commissioned for or by a potential suitor or lover. A chemise was typically the only undergarment worn beneath a women's robe or gown until around the 1820s. Its unfastened visibility here invokes a state of undress. The informality, and suggestibility, of this garment made headlines a century later, when Marie Antionette posed in only a chemise for a portrait by Élisabeth Vigée Le Brun in 1783, a work that was heralded as evidence of her moral degradation. However, while several of Jane Dering's siblings made advantageous matches, Jane is recorded in historical record as unmarried, which shrouds the intended message and recipient of the miniature in mystery.
Nicholas Dixon
The portrait miniature is an artefact that provides a unique glimpse into a time when status, memory and intimacy were negotiated very differently than now. Nonetheless, Jane's likeness as captured by Nicholas Dixon is a testament to her place within the highest circle of power, the King's court.
Dixon became King's Limner to Charles II in 1673. This was quite a coup for him. He was not living well from his art at this time. He was even documented as paying the 'poor rate' from his London home during the 1670s. His life's story is a rags-to-riches tale rare for its time. He managed to elevate himself from obscure origins and poverty to one of the most impressive artistic positions in England.
Having rendered Frances Theresa Stuart (1657-1701) and Anne Hyde, Countess of Ossory (d.1685), Dixon became entrenched within the King's inner circle. His peers included mistresses and known beauties also painted by Peter Lely and Godfrey Kneller. Dixon rose to the position of keeper of the King's picture closet. This further evidences his central role in the rich visual culture for which Charles II's court is famous. Indeed, miniatures were centre stage at the Royal Collection Trust's blockbuster exhibition Charles II: Art & Power.
Jane Dering's Portrait at Auction
In the November Fine Jewellery auction, we will offer for sale the portrait miniature Jane Dering, by Nicholas Dixon. Rendered on vellum and contained within a gilt frame, this piece has a pre-auction estimate of £1,000 – £1,500.
Lot 414 is a testament to the breadth of skilled craftsmanship present in the auction. It perfectly shows the intersecting nature of haute design and art.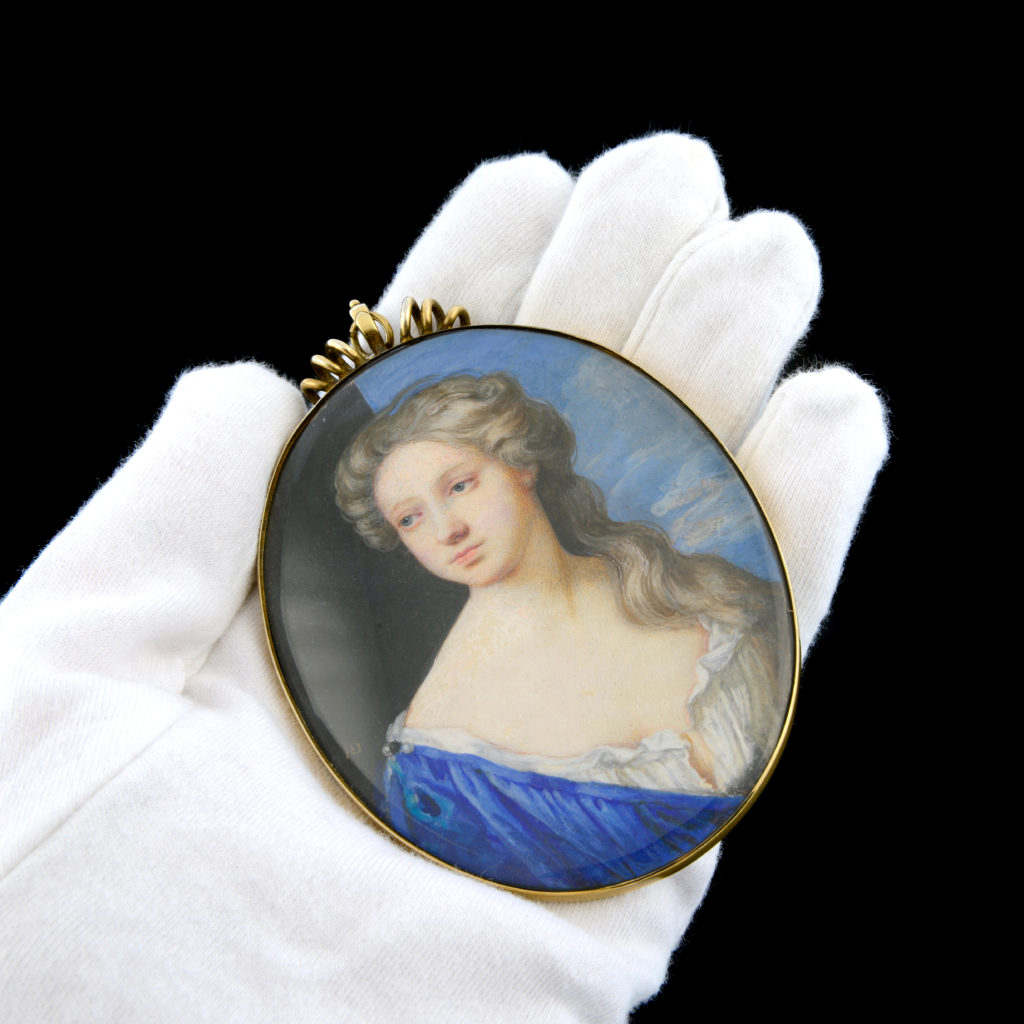 Make sure you don't miss finding that special something by signing up for our emails. You'll be the first to know when catalogues become available, receive invitations to special events, and preview the hottest lots from our auctions, plus much more. You can also set up lot alerts, to tell us exactly what you are looking for. Our personal shopping service will make sure that you are the first to hear about it.
Valuations
Our valuations are free, with no obligation to sell with us. Our experts will value your item with an estimate, so you can find out what it could achieve at auction.
The process is simple. You can fill in a form online or book an appointment to visit either of our offices in Birmingham or London. Virtual valuation appointments are also available.